Goddess Lakshmi
is worshipped in the eight different forms. The group of these eight forms of Goddess Lakshmi is called Ashta Lakshmi.
The eight divine forms are:
Adi-Lakshmi: The primaeval Goddess
Dhana-Lakshmi: The Goddess of prosperity and wealth
Dhanya-Lakshmi: The Goddess of Foodgrains
Gaja-Lakshmi: The goddess of strength, power and royalty
Santana-Lakshmi: The Goddess of Progeny
Dhairya-Lakshmi: The Goddess of courage
Vidya-Lakshmi: The Goddess of Knowledge
Vijaya-Lakshmi: The Goddess of victory

The equivalent form of Ashta Lakshmi is Vara Lakshmi. Vara means boon. Hence she is called as 'Boon Giver' Lakshmi. She grants wealth, strength, progeny, food grains, Knowledge, courage and victory to those who worship her during Sravana Masam, especially on Fridays.
Auspicious Month
Full moon day occurring with Sravanam star is Known as Sravana Masam. It is one of the auspicious months of the year for married women to perform Vara Lakshmi vratam and Mangala Gouri vratam for their sowbhaghyam. Mangala Gouri vratam/nomu is performed by newly married women on all Tuesday s of Sravana Masam. They worship Sravana Mangala Gouri for a happy, prosperous, blissful married life and for the welfare of their husband.
Where did Goddess Lakshmi Devi reside?
Goddess Lakshmidevi resides in the Cows, Lotus, Elephants, Puja room, Flowers, Auspicious rituals, Lighting Lamps (Deepam), clean and tidy houses, where the Vedic recitations are done.
Legend
According to Skanda Purana, once Goddess Parvathi asked Lord Shiva to tell about a Vrata which is beneficial to women. Then Lord Shiva mentioned Vara Lakshmi vratam.
To illustrate the importance of the vratam Lord Shiva narrates the story as – Once there lived a Brahmin woman named Charumathi in the kingdom of Magadha. She was living in a small village, Kundina with her husband and parents-in-law. She was very much devoted to her family to a great extent.
Pleased with Charumathi's devotion towards her husband and parents-in-law, Goddess Lakshmi appeared in her dream and asked her to perform Vara Lakshmi vratam. She explained to her the procedure of the vratam. The pious Charumathi invited all her neighbours, friends and relatives and perform Vara Lakshmi vratam as directed by Goddess Lakshmi. Soon after the pooja, all people who participated in the pooja were blessed with wealth and prosperity. Since then this vratam had become popular and spread to next generations.
Mainly this vratam is performed in Andhra, Karnataka, Tamil Nadu and some regions of Maharashtra.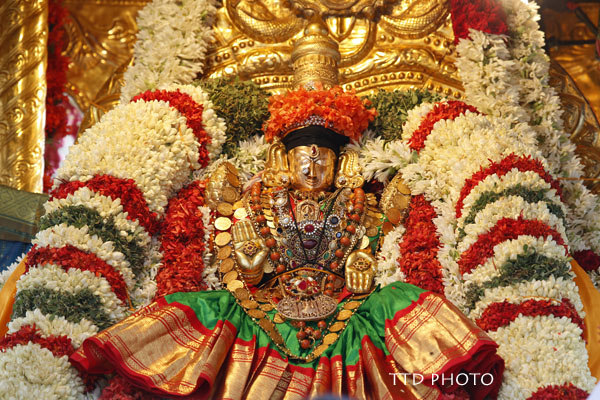 Process – Varalakshmi Vratham
On this day women should wake up before dawn and clean their house and courtyard. Draw rangoli with attractive colours in front of the house. Also, decorate the entrance with the festoon of mango leaves and threshold by applying turmeric and vermilion paste.
Next clean the lamps, bronze, steel or silver pot and other pooja vessels.
Take oil bath.
Wear new clothes and ornaments.
Now get ready to prepare naivedyam. Cook payasam and pulihora, whatever you can do with devotion, can be placed in front of the Goddess.
The special items to be cooked should be an odd number.
After finishing cooking inside Pooja Mandir, draw rangoli at the west side wall and place a palavelli ( a plank having four pillars and top ) there. Tie little plantains to the front pillars of palavelli.
Also, hang flower garlands to all four sides of palavelli. Inside palavelli keep a banana leaf. Pour two cups of rice on the leaf and spread it evenly.
Now take bronze/steel/silver pot and pour some rice, nine dry date fruits, nine betel nuts, nine dry boiled turmeric tubers, nine one rupee coins, one gold coin, one silver coin, a flower, a pinch of vermilion powder in it.
Put Turmeric and Vermilion on four sides of the pot. Apply turmeric, chandanam and vermilion to a coconut and place it on top of the pot surrounded by mango leaves and mogali petals.
The tail of the coconut should be upward. Fix the Goddess face against the coconut tightly against the pot with a thread to avoid falling.
Decorate the pot and the face of the Goddess with dress, gold ornaments and flowers. Now place this decorated pot over the rice on the banana leaf inside palavelli.
Take a blouse piece, bangles and thambulam on a plate and keep it beside the Goddess.
Offer a garland and light the lamps at the Goddess.
Before Vara Lakshmi pooja Ganesha pooja should be performed for giving strength to perform Vara Lakshmi vratam

without any obstacle. Now say

sankalpam

.

Do

kalasa

pooja and

dhyanam

and then Avahanam.

Next

, do orderly Anga pooja,

shodashopachara

pooja, Ashtothara

satha namavali

pooja and

thoragandi

(to sacred thread) pooja with different fragment flowers, sacred perfumed rice,

chandanam

, turmeric and vermilion powder.

Now offer

naivedyam

and

harati

.

Read Mantra

pushpam

. Now it is a time for

thorabandanam

. Tie one sacred thread (made of nine strings and nine knots) to Goddess Vara Lakshmi and another to your right wrist chanting the following mantra.
Bandhami dakshina haste
Navasuthram shubhapradam
Putrapauthradi vruddhincha
Sowbhagyam dehi mey rame
Read vrata katha (story). With this, the morning pooja will be over.
In the evening women from the neighbourhood should be invited and offer thambulam.
The women should sing hymns in praise of Goddess Vara Lakshmi and give neerajanam. At night offer fruits and milk as naivedyam.
On Next Day of POOJA
Next day a small pooja called 'Punah pooja' should be performed to mark the conclusion of the vratam.
After completion of the pooja, Goddess Lakshmi should be lifted from pooja place and kept safe for next year pooja.
The coconut which is used on the top of the kalasam should be broken and the water in it should be taken as theertham.
The broken coconut should be used to prepare a sweet only but not for curries. With this Vara Lakshmi vratam will be completed successfully.
Vara Lakshmi Vrata books and CD's are available at the market. One can Perform Vara Lakshmi vratam with the help of the book or CD if the priest is not available at that time. Also, those who can not perform pooja at home can attend samuhika Vara Lakshmi vratam performed at the temples.