Rathotsavam - Big Chariot
Among the Brahmotsasvas of Lord Venkateswara, the most splendid one that attracts the attention of the devotees is the car festival, Rathotsava.
On the eighth day, under the rays of the morning sun, while Lord Venkateswara sits in a chariot, as big as mount Meru with his consorts Sridevi and Bhudevi on either side and while the devotees chant his name holding the reins of the chariot, the car festival gets under way in the city streets of Tirumala.
The specialty of this festival is that in this the devotees themselves drag the chariot holding its reins. This is the reason for the car festival to be celebrated with pomp and glory.
In the belief that witnessing Lord Vishnu in the chariot liberates them from the cycle of birth and death, "rathotsavam Kesavam drishtwa punarjanma na vidyate", all the devotees participate in it personally.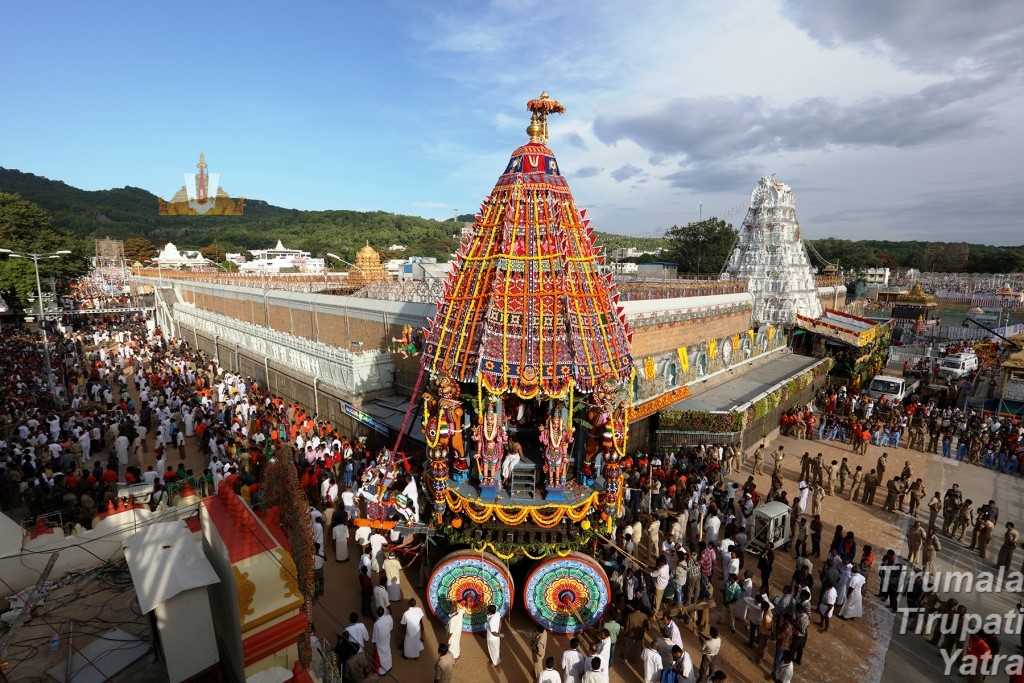 Tallapaka Annamacharya has a splendid description of the car festival
Look, the God of gods mounted the divine car
For the likes of us, it is a chariot of wish fulfillment.
 The way it looks the sky and earth meet is great
The manner of Lakshmi's consort, a feast to the eye
 For all those who witness, it is a treat to the eye
Here he goes in the streets, the lord
Mounting the car, feared by the demons
God of gods, with gods exulting
The wheels of the chariot moved
With a thundering sound
From street to street, scattering light.
 Some devotees raise their voice in a frenzy of devotion and cry 'Govinda' and 'Govinda'. Some women devotees happily throw rice (Sesalu =Akshatalu) from the upstairs of buildings in the city streets (now-a-days devotees throw salt, pepper and coins on the God).