The holy dip of the disc - Chakra Snanam
A palanquin festival is held in connection with the culmination of Brahmotsavas on the ninth day. Later in auspicious moments, the splendid festival of the Chakrasnana is celebrated.
The last episode in the Brahmothsavas is the Avabhritha, the holy dip of the disc. There is no other than the holy dip performed at the end of the Yajna. Giving a holy dip at the end of the yajna is traditional and is also supported by the sastras.
The Brahmotsasva is celebrated for nine days like a yajna with a sense of devotion, splendidly and on a massive scale. On the morning of the ninth day, in star Sravana, the star of the lord's incarnation is born, the holy dip is administered.
'Sava' means a yajna. Ut + Sava = Utsava means a great and excellent Yajna. So the chakrasnana is administered as the last of the services during the Brahmotsavas.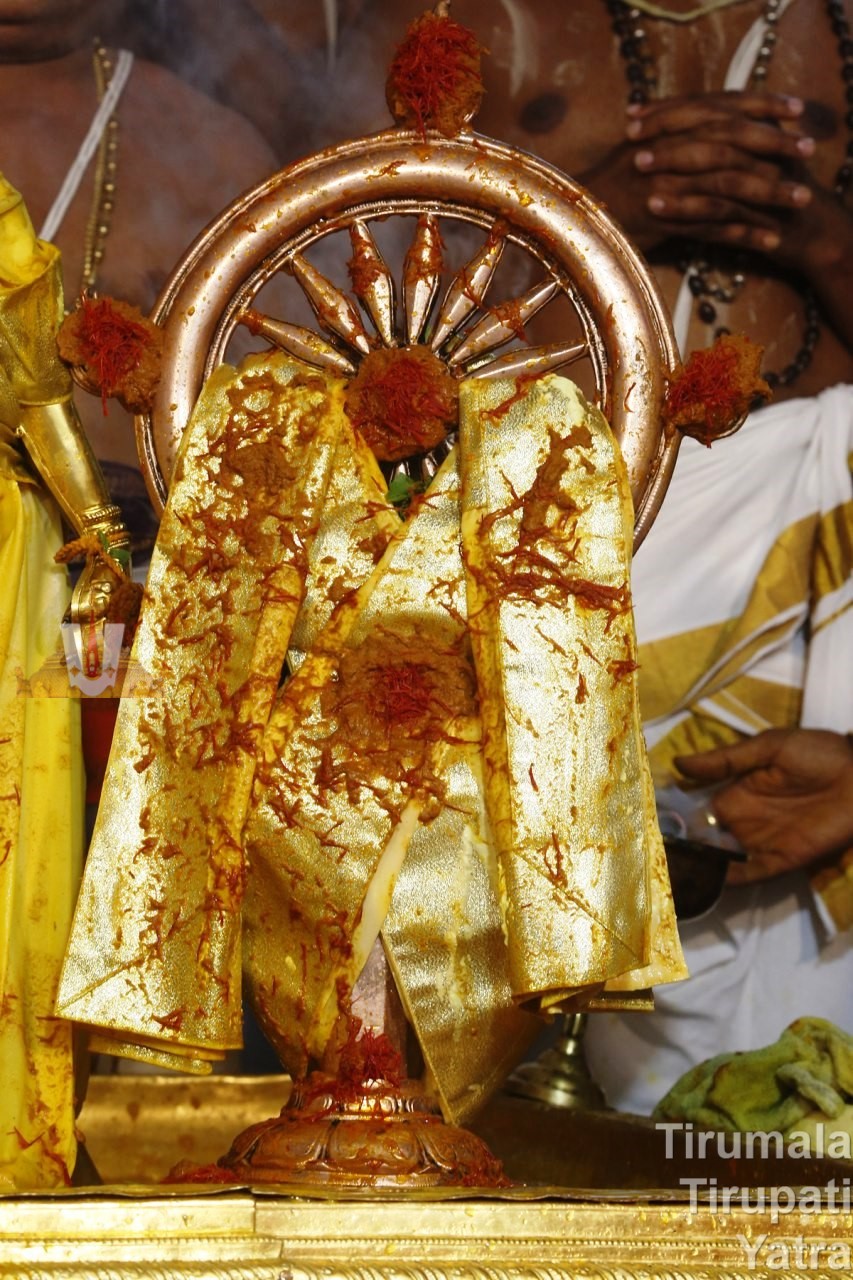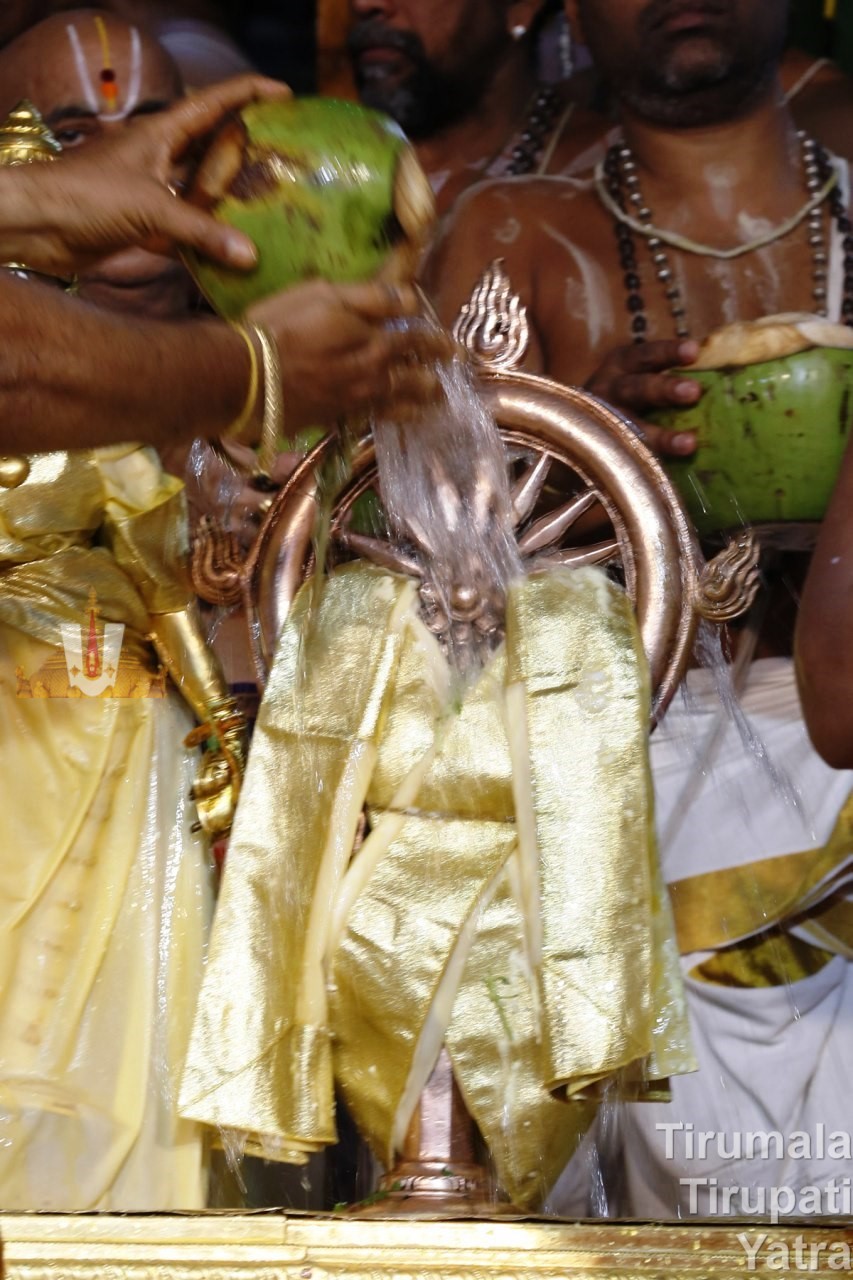 Lord Malayappa, the festive idol of Lord Venkateswara reaches the temple premises along with Sridevi and Bhudevi. Along with them goes Chakrathalvar [Sudarsana Chakra] in another palanquin.
Later the idols and the chakra are given a holy dip.
At first the Lord and his consorts are given a dip and are dressed.
Later they are given a dip again along with arghya, padya and aachamana.
Then they are treated with cow milk and water, lamps are lighted and incense and camphor, offered.
After that, they are treated with curds, honey, coconut water and turmeric.
Every time such a treatment is given, they are treated with pure water once again.
Later the idols are offered light, incense and arati. At the end the idols are coated with sandal, adorned with a tilakam and a garland made of basil leaves. After achamana, among other things light, incense, the usual arathi followed by Kumbha arati and nakshatra arati are offered.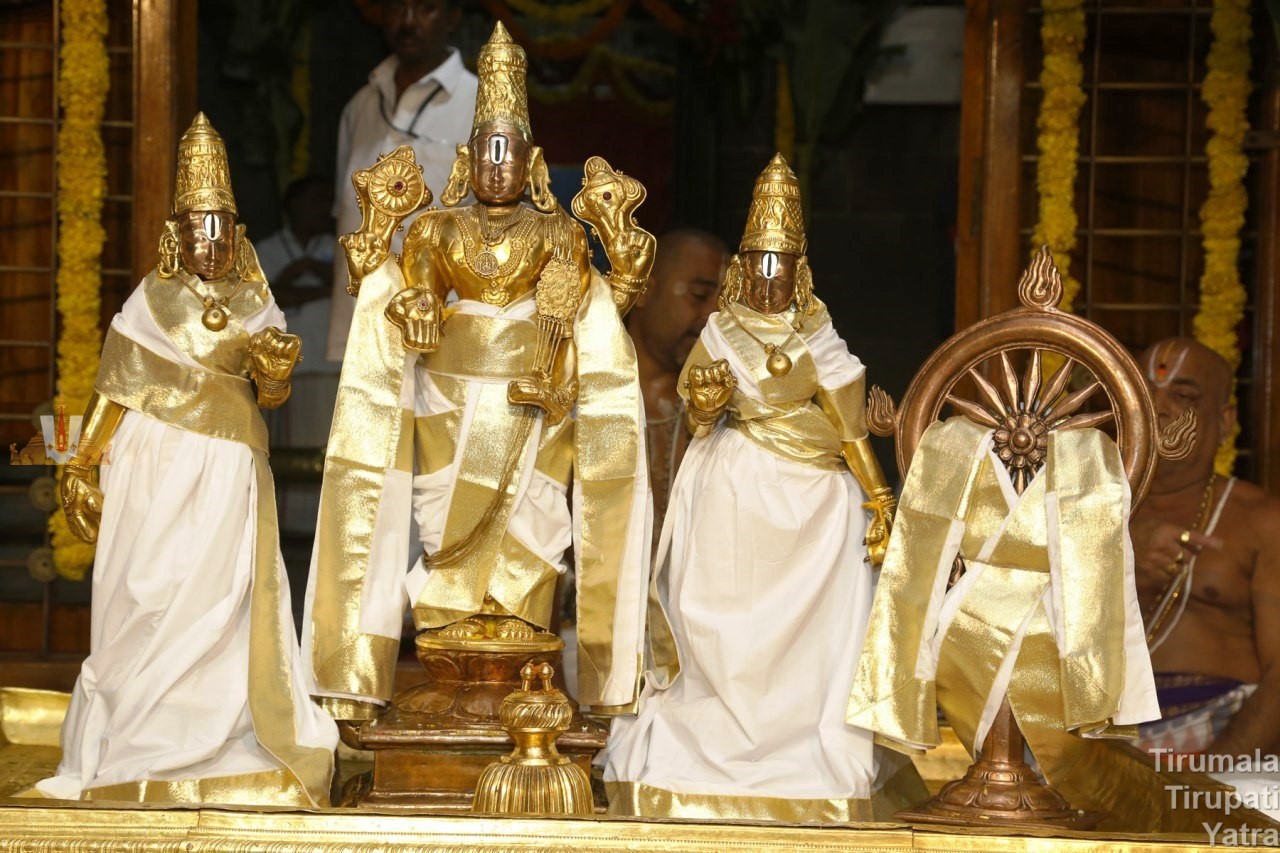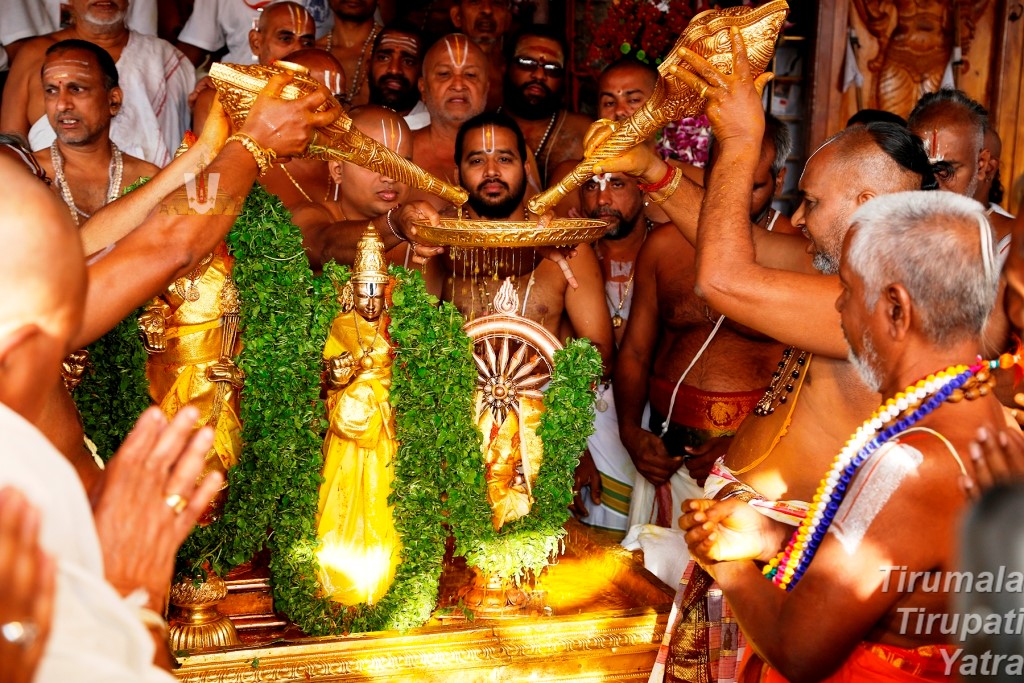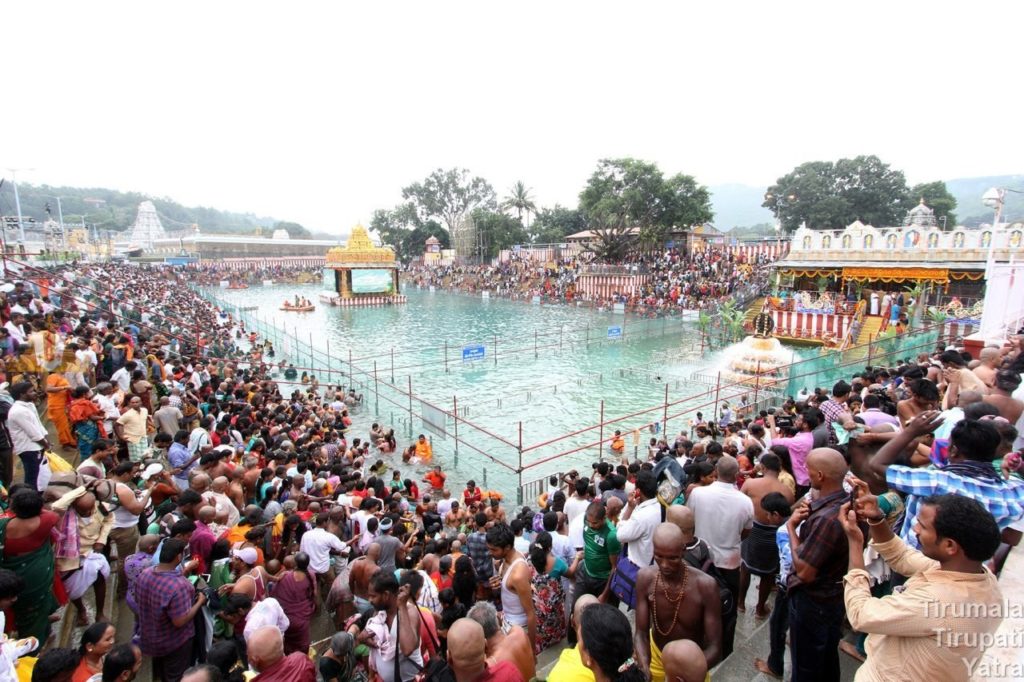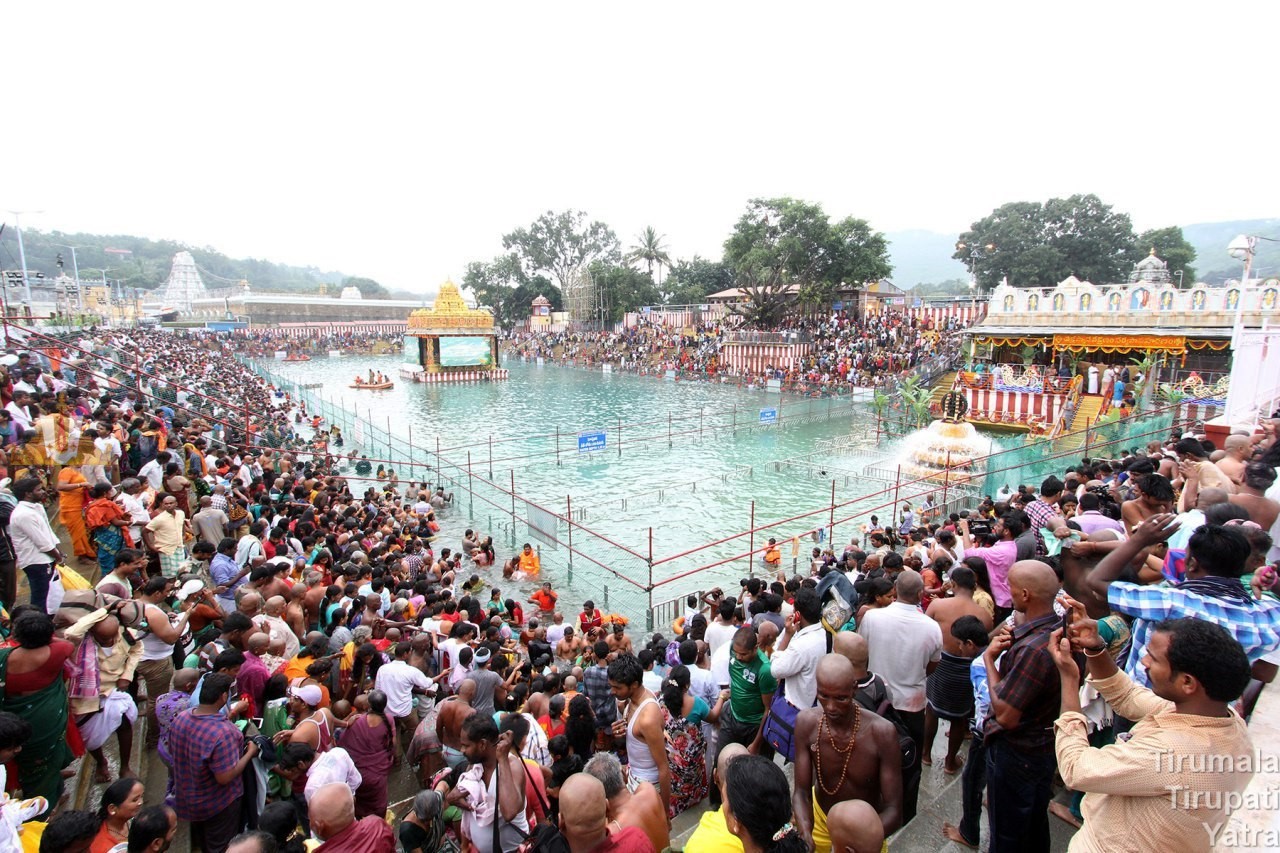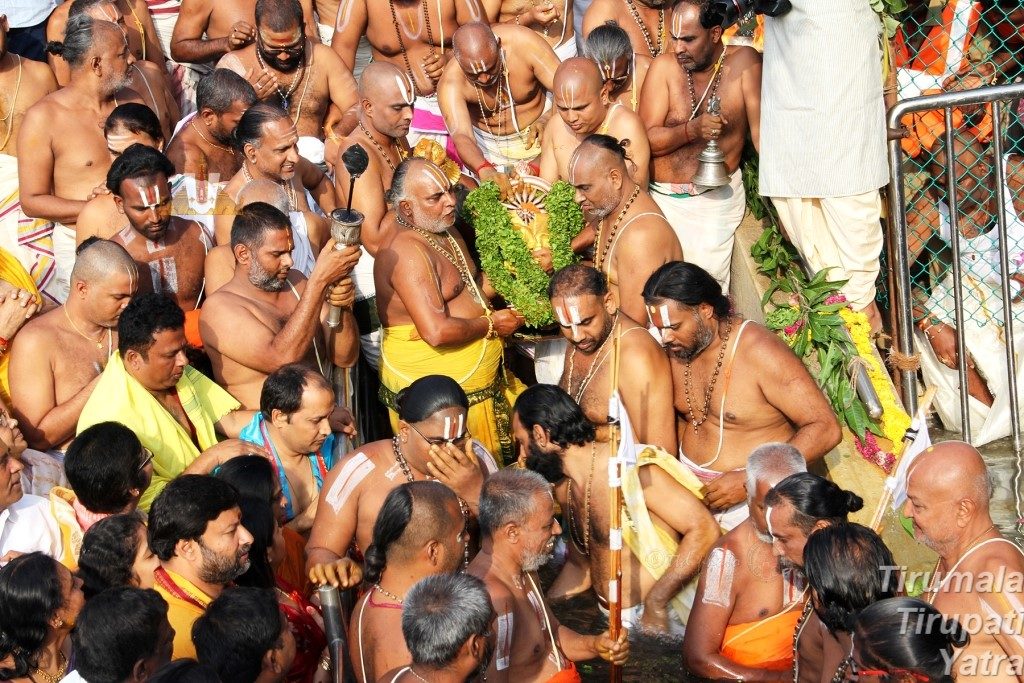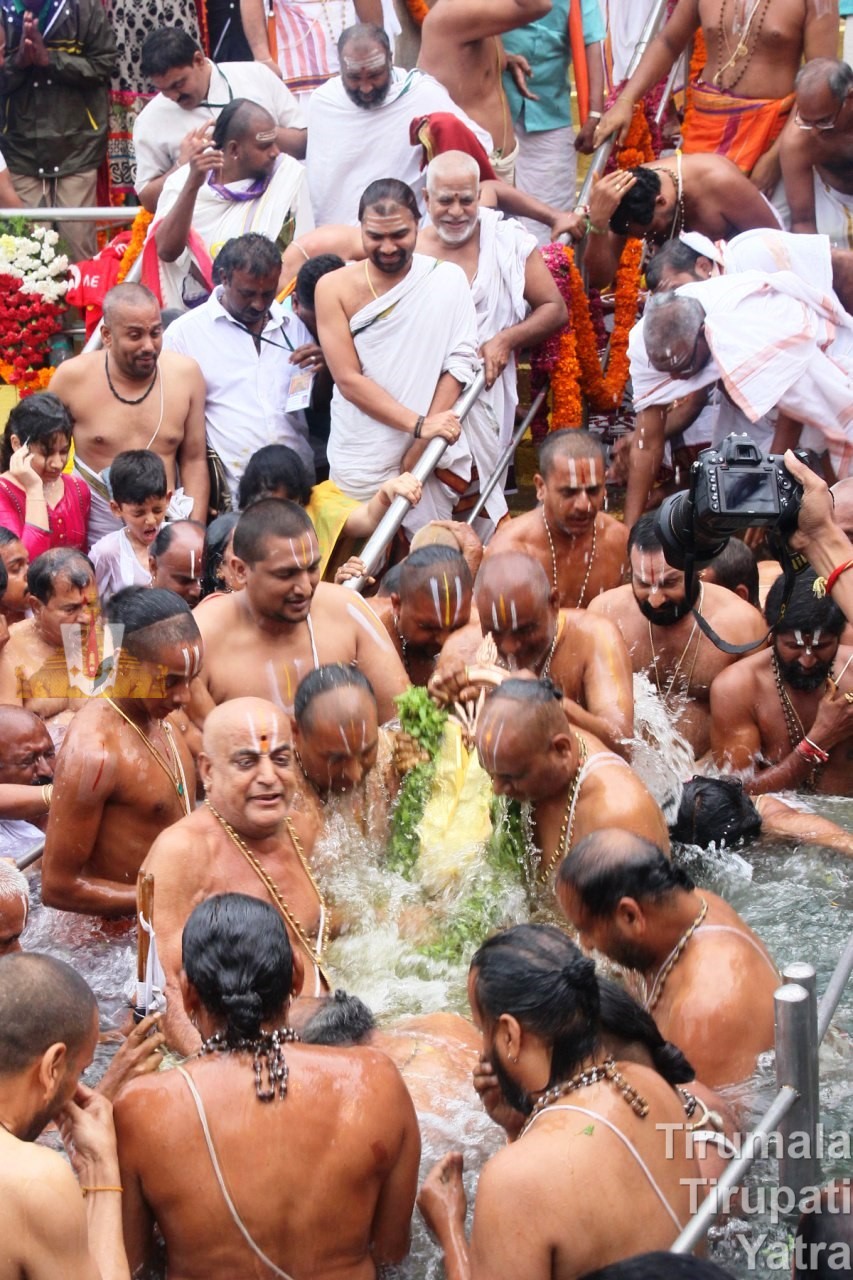 The festival is celebrated in the name of Lord Venkateswara and the holy dip is given to Chakravattalwar [the servant].
At the end with al golden plate they perform a Sahasradharabhisheka [a dip with a thousand drops] while Sridevi, Bhudevi and Chakrattalwar are being given a holy dip. Vedic Scholars chant Srisukta, Purusha Sukta and Bhusukta.
Then they dress the idols and give them offerings and they give the Sudarsana Chakrattalwar alone a dip in the holy lake of the lord [Swami Pushkarini].
At the same time, the priests and all the devotees take a holy dip in the holy lake Pushkarini and purify themselves. Then the Lord, his consorts and Chakrattalwar go in a procession and enter the temple.
After the holy dip Lord Srinivasa tells the devotees, "those who on the day with Sravana nakshatra, lift their arms and take a dip in the holy lake Pushkarini along with the Sudarsana Chakra, cast off the bonds of their former birth, become prosperous and live happily in both this world and the other world as well".