Importance of visiting Tirumala
"Venkatachala yatrayam
Paadamekam Muneeswarah
Brahmahatyadi Papaghnam
Samsararnava Tarakam"
Means – If we step up at least once on Venkatachalam, it will burn away all our sins and will take us across the ocean of samsara (world) easily.
In Olden days
In olden days there are 4 routes to reach Tirumala. They were all either foot-paths or paths intended to go in small vehicle.
The first route is 25 miles of a distance from Talakona (Siddheswara kshetram to Tirumala through the forest).
Second route from Kadapa district, is from Balapalle, via Mamandur to Tirumala, it is a ghat route, the stair case still exists. One or 2 mantapams (resting places) can be found on the way. One is Eetakayala Mantapam which is seen beside Gogarbham dam
Third route is from Tirupati via Alipiri to Tirumala.
(Meaning behind the word Alipiri is mentioned in the same page)
Fourth route is from Chandragiri Via, Sri vari Mettu.
There is a talk amongst the people that after hearing the bell of food – offering (Naivedyam) to swami, the rulers of chandragiri used to take their meal.
In Addition to these routes there was a tunnel to reach Tirumala from Kapilatheertham.
Reaching Tirupati
To reach Tirupati there are many roadways, railways and airways.
The city is well connected to major cities through national and state highways.
The National highways passing through Tirupati are, National Highway 71 which connects Madanapalle and Nayudupeta, National Highway 140 connecting Tirupati with Puthalapattu.
There is a total of 294.47 km of Roads within the Tirupati Municipal Corporation Limits.
Ways of Transport
By Road
APSRTC is the state owned transport service, which operates buses to various destinations from Tirupati bus station complex.
The bus station comprises of three mini bus stations to various destinations, such as Srinivasa bus station for west-bound destinations, Sri Hari bus station for east bound destinations and Yedukondalu bus station is utilized for bus services to Tirumala.
Balaji Link bus station at Alipiri is also used for bus services to Tirumala. Tirumala Tirupati Devasthanams runs free buses from railway station and Central bus stand to Alipiri for pilgrims. The buses to Tirumala are known as Sapthagiri Express.
Tirupati is in close proximity with the states of Karnataka and Tamil Nadu.
Hence, buses from KSRTC, TNSTC and SETC also operates their services. There are also private transport which operate in the city.
By Railways
Tirupati Main is classified as an A1 station in the Guntakal railway division of South Central Railway zone.
Tirupati West Halt and Tiruchanur are the satellite stations, used for de-congesting rail traffic at the main station.
*Data Source - Wikipedia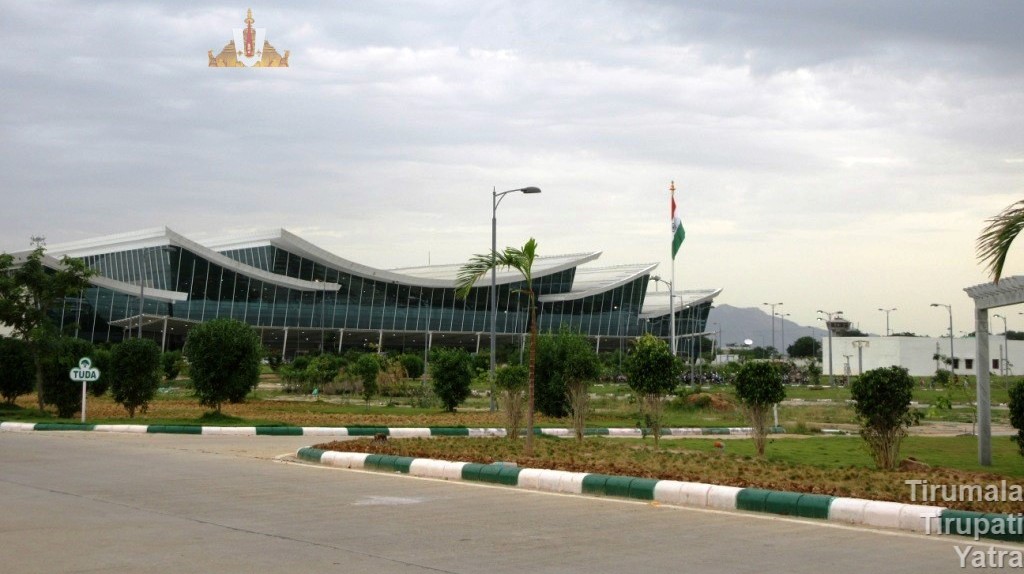 By Airways
Sri Venkateswara Airport is located 15 km from the city centre and has regular flights to Coimbatore, Hyderabad, Kolkata, Mumbai, New Delhi, Vijayawada and Visakhapatnam.
The closest international airport is Chennai International Airport which is 130 km (81 mi) from Tirupati.
Tirupati Airport is being upgraded to international airport. The new Terminal was inaugurated on 22 October 2015 by Prime Minister of India, Narendra Modi.
** A plan was launched to build a railway but it was napped in the bud stage due to spiritual reasons, same case with helipad idea. At present there is airway facility to go to all major cities from Tirupati.