The Horse Chariot - Aswa Vahanam
On the eighth night of the Brahmotsavas, Lord Venkateswara alone goes in procession looking like a warrior with a helmet on his head and a sword in his hand.
The horse is a symbol of speed
The horse has been a carrier from times immemorial. Not only were the horses used for personal journeys but they were tied to drive the chariot. The cavalry was the most important among four categories of forces in war. When the gods and the demons churned the milky ocean for ambrosia, a king among horses by name Ucchaisrava was born from it.
There are ten famous incarnations of Lord Vishnu. The last among these is the incarnation of Kalki. The epics say in his praise that at the end of the epoch of Kali, Lord Vishnu will establish
Dharma in the form of Kalki who with a sword in hand and mounted on a horse kills the evil ones to save the pious people.
Kalkinam turagarudham Kalikalmashanasanam
Kalyanadam Kalighnancha Srinivasam bhajenisam
 Deva Sarma praises Kalki as one mounted on the horse, the dispeller of Kali's effects on the devotees, the giver of bliss, the destroyer of the evil one, Kali; Srinivasa who incarnates himself as God Kalki, with a desire to serve him forever.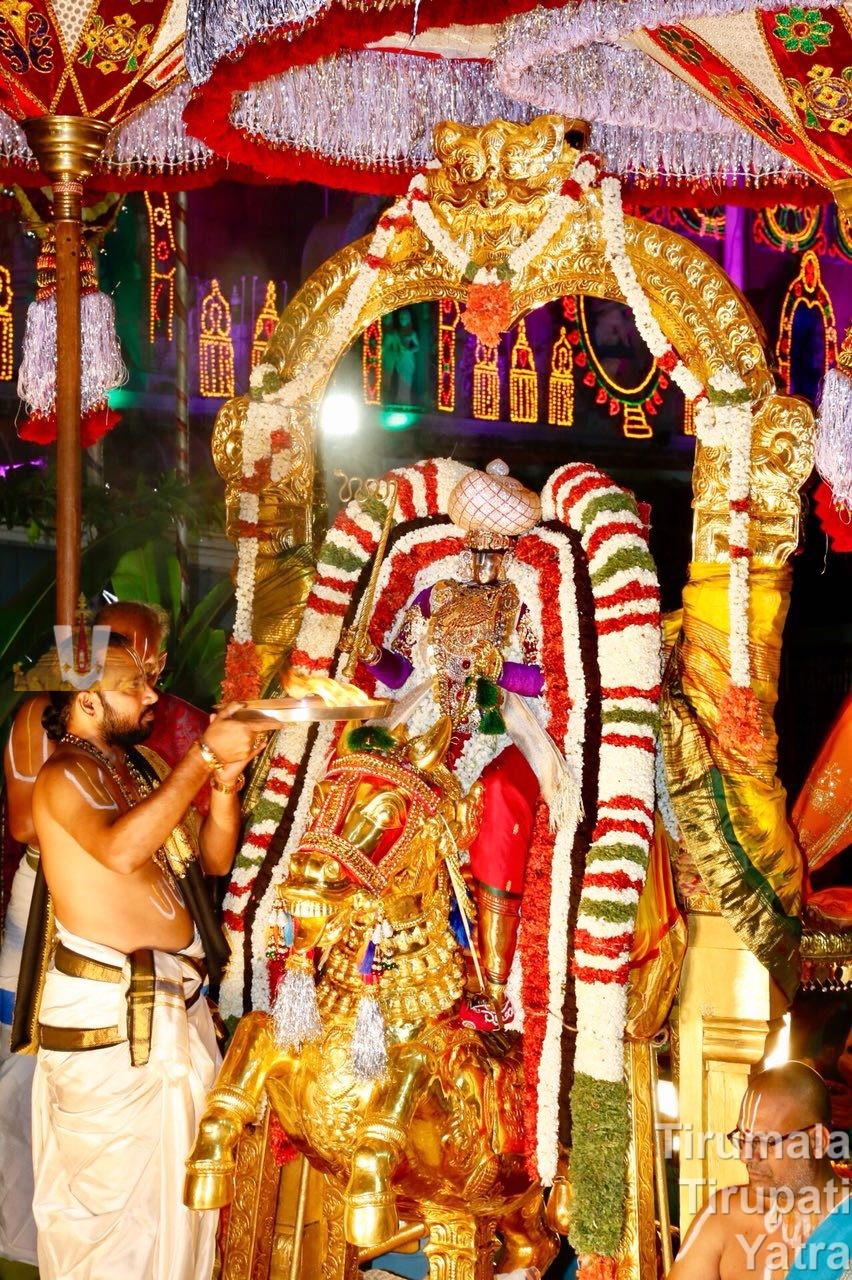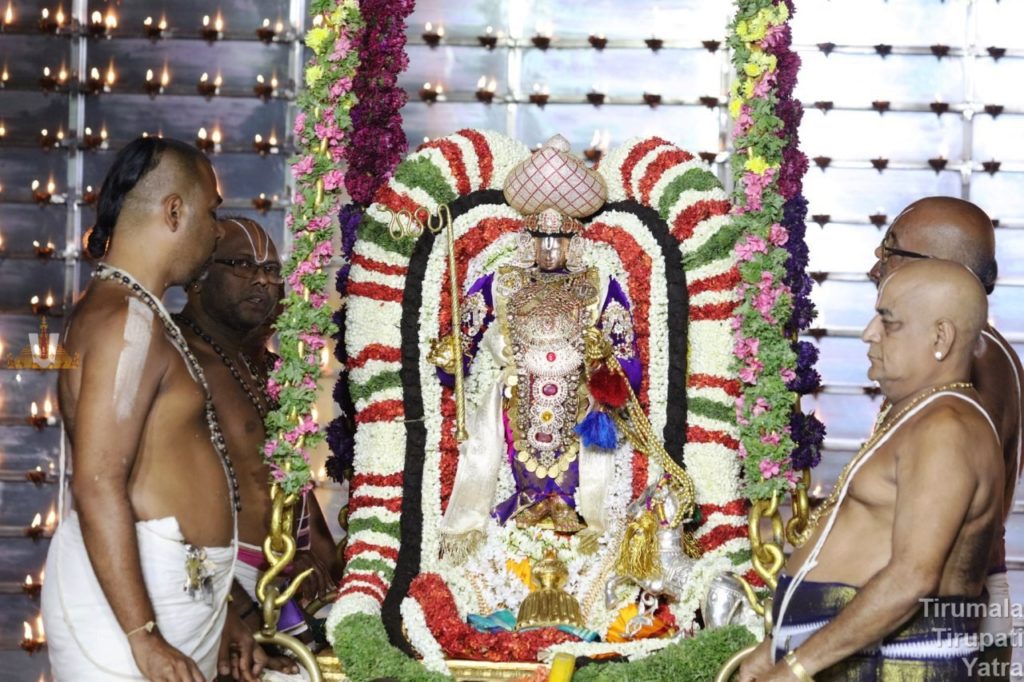 Unjala Seva before procession of Lord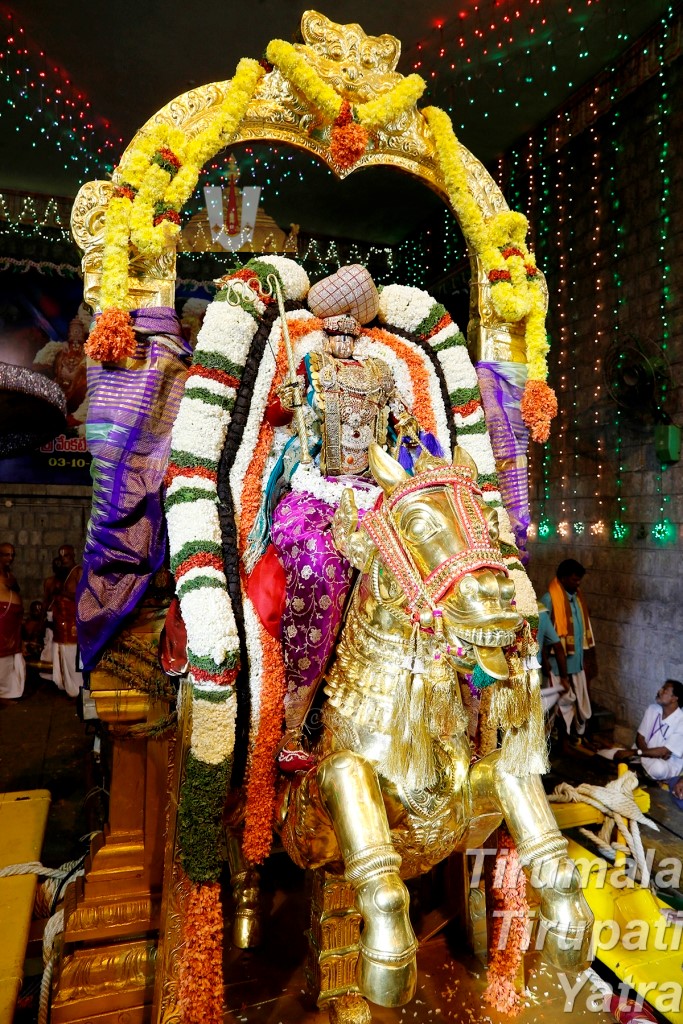 Tallapaka Annamacharya has described the manner in which the Lord goes in procession in the car streets around the temple of Tirumala, thus:
Attention while holding the stirrup
The horse's reach is beyond control.
A glittering horse touching the sky
To all sides, it jumps as in a war dance
Attention Garuda and the weapons five
The horse is invisible, racing fast
Galloping amain the horse trods
Paths hitherto unknown
Attention! The horse touches the stars!
So well is it driven. Attention, o Lord!
O God who saves those in pain
Take heed of your lotus feet, while the reins are held
O Venkatesa, as you go sporting along streets
Around the temple with your consort, Goddess Lakshmi,
Tarry not, in joining her.
At the end of the epoch of Kali, Lord Venkateswara descends in the form of Kalki, punishes the wicked, saves the pious and protects the dharma. The objective of the horse chariot is no other than to announce this.
When Padmavati and Srinivasa exchanged amorous looks, the Lord was mounted on a horse. Even in the Paruveta festival, Lord venkateswara goes a-hunting, mounted on a horse chariot. Another incarnation of Lord Vishnu is Hayagriva, the horse faced.
The Kathopanishat describes the senses as horses. So Venkateswara who rides a horse, is a controller of the senses. He teaches us through the horse chariot that we should also carry on with our lives by keeping our senses that are like horses, under control.