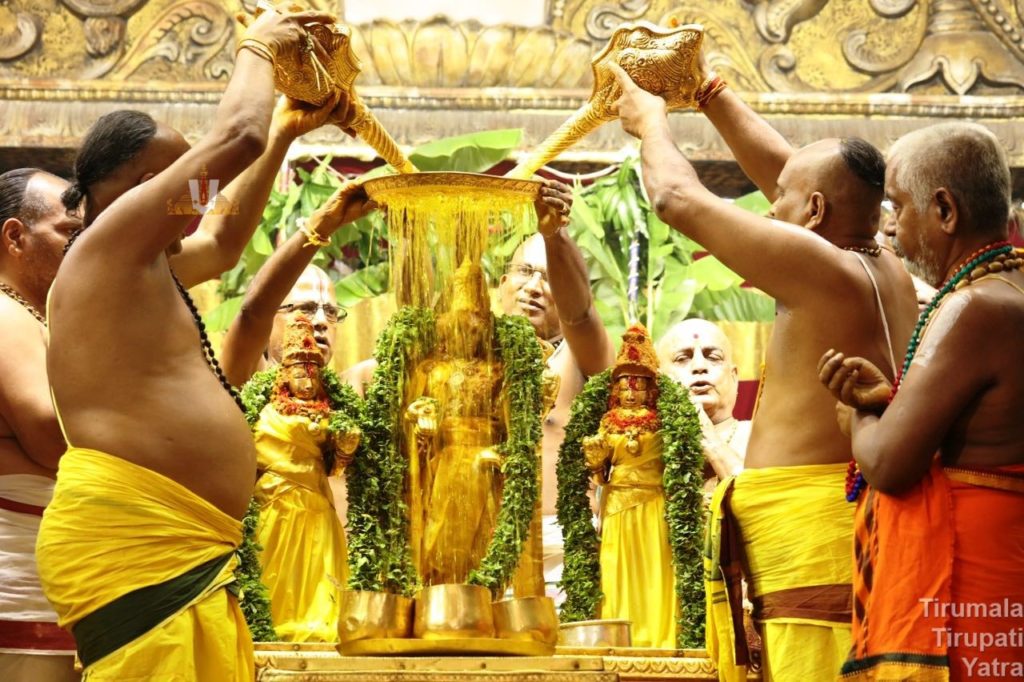 Chanting of Govinda Nama
Generally, the devotes won't chant one nama smarana as a whole in any temple. But in "Tirupati Tirumala Yatra" we hear the devotees say 'Govinda, Govinda'.
There are 2 reasons for saying so
Bhagawad Ramanuja did not find any difference between Govindaraja Swami at Tirupati and Sreenivasa at Tirumala. He made an ordinance to conduct the services to Govindaraja Swami as in Tirumala.
Swayambhu Idol Maha Vishnu who stood in worship form at Tirumala after the end of Krishnavatara. He is himself Venkata Narasimha, Venkata Krishna. Sri Krishna lifted the Govardhana Mountain and gave shelter for the cows and cowherds. As the devotees climb the hill, they chant Govindanama. Swami got up and stood from the ant hill preventing the blow of the axe for the reason that it may hit the cow.
It is clearly explained in the book "Tirumalai olugu", in the sloka "Ghushyate sanghasah ucchai Govindeti punah – punah" that the devotees in groups utter the words – "GOVINDA, GOVINDA".
More than 60,000 to 75,000 pilgrims can have Sri Venkateswara Swamy Darshan daily in Tirumala, TTD has started an efficient system of Darshans for the sake of Pilgrims who are visiting Tirumala.
Darshan for NRIs and In-Service Defence personnel
Tirumala Tirupati Devasthanam also provides darshan through Supadham to NRIs and Defence personnel on the payment of INR 300 /- per ticket. The pilgrims falling under these categories should bring their passport and relevant Identity proofs which are mandatory
Darshan for Angapradakshina Pilgrims
Pilgrims who take the vow to perform "Angapradakshinam" in Sri Vari temple should obtain bio-metric showing their Aadhaar Card at the Central Reception Office (CRO) in Tirumala.
On a day 750 tokens are issued. These tokens will not be issued on Thursday to fo Angapradakshina on Fridays and during Important festive occasions. 
The Pilgrims performing Angapradakshinam should first take a Holy bath in Swamy Vari Pushkarini and report at Vaikuntam Queue complex -1 ( VQC-1) at the specified time mentioned in the token.
Privileged Darshan for Parents with infants below one year of Age
T.T.D provides free darshan to the parents through "Supatham Entry" point having Infants below one year age. The parents have to bring the birth certificate or discharge summary of the baby along with photo ID proof of both the parents.