Special Entry Darshan / Seeghra Darshan
Pilgrims can avail Seeghra Darshan by booking the ticket through online using www.ttdsevaonline.com and also through e-Darshan counters, Post Offices.
Pilgrims Must and should wear traditional dress for this Darshan.
Every Week 1.40 lakh tickets are being provided to pilgrims through on-line in Special Entry Darshan.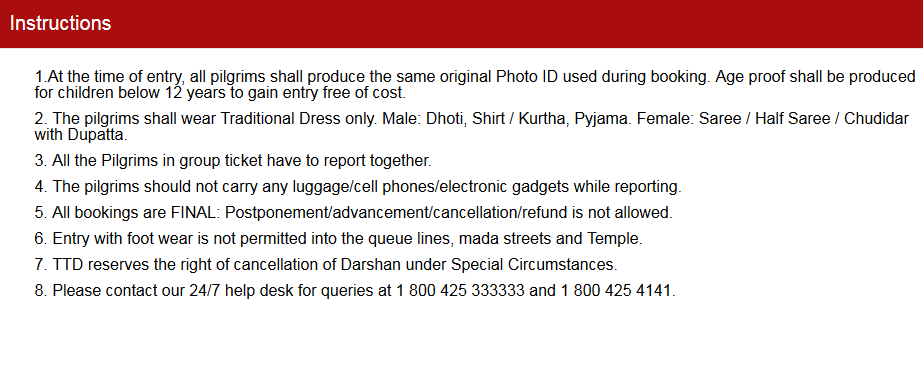 Instructions from TTD online Website
Dress code for Devotees Visiting Tirumala Temple
To enhance the spirituality among the pilgrims visiting Tirumala to get the darshan of Lord Sri Venkateswara Swamy, TTD has introduced traditional dress code in 2013.
Initially it was implemented for the pilgrims who are taking part in Arjitha Sevas and now it has been extended to VIP pilgrims seeking break darshan of Lord Sri Venkateshwara Swamy, and general pilgrims who go for Rs.300 and Rs.50 darshan.
For Men
For men the dress code is dhoti or pyjamas with upper cloth.
For Women
For women the preferred dress code is saree or half-saree with blouse or churidar with pyjama and upper cloth.

Origin
Special Entry Darshan (Seeghra Darshanam) is introduced on 21-Sep-2009 to provide quick darshan to the Pilgrims. However with the huge crowd even this darshan may takes 3 to 4 hours of time and much more than that during Weekends.
The cost of the Ticket is Rs.300/- per pilgrim with two Laddus free of cost and booking is open round the clock.
The Advance Booking of Special Entry Darshan is introduced with effective from 27.August.2014.
Pilgrims can book Special Entry Darshan tickets for the current day 3 hours prior to Darshan Slot subject to availability of Quota.