Sankranti - Tirumala Temple
The sacred temple of Sri Venkateswara Swami at Tirumala has been a platform for many festivals, rituals and events. Some of them are Agamic, some are Pauranic and some of the festivities are in accordance with the Vedic calculations of the Time.
Sankranti is one such 'parva kaala' which, according to the ancient texts, is the most pious time dedicated to celebrate the life, enjoy the fruits and also commemorate the departed souls. Sri Venkateswara being the 'karta' and 'bharta' of the universe, His abode also reflects the mood and true meaning of Sankranti.
Sankranti Significance
The Sun and his movements form the core of the many astrological calculations. There is a secretive yet visible connection between the Sun in the sky and the living beings on the earth. This relationship has been subtly captured in Vedic hymns such as Saura Sukta.
Vedas have praised Surya as the 'soul of the universe'. He travels from Makara rashi to Karka rashi in 365 days. This movement causes the formation of seasons on earth. Thus, the Sun directly affects the living beings of the earth by providing them with many benefits such as water and food.
Hence he has been hailed as the soul of the universe. As the sojourn of Sun begins by entering Makara rashi, ancient Indian scientists have called it as a 'Parva kaala', a very special occasion marking the change in the Sun's direction, and advised us to follow certain rituals.
Sarva Bhupala Vahanam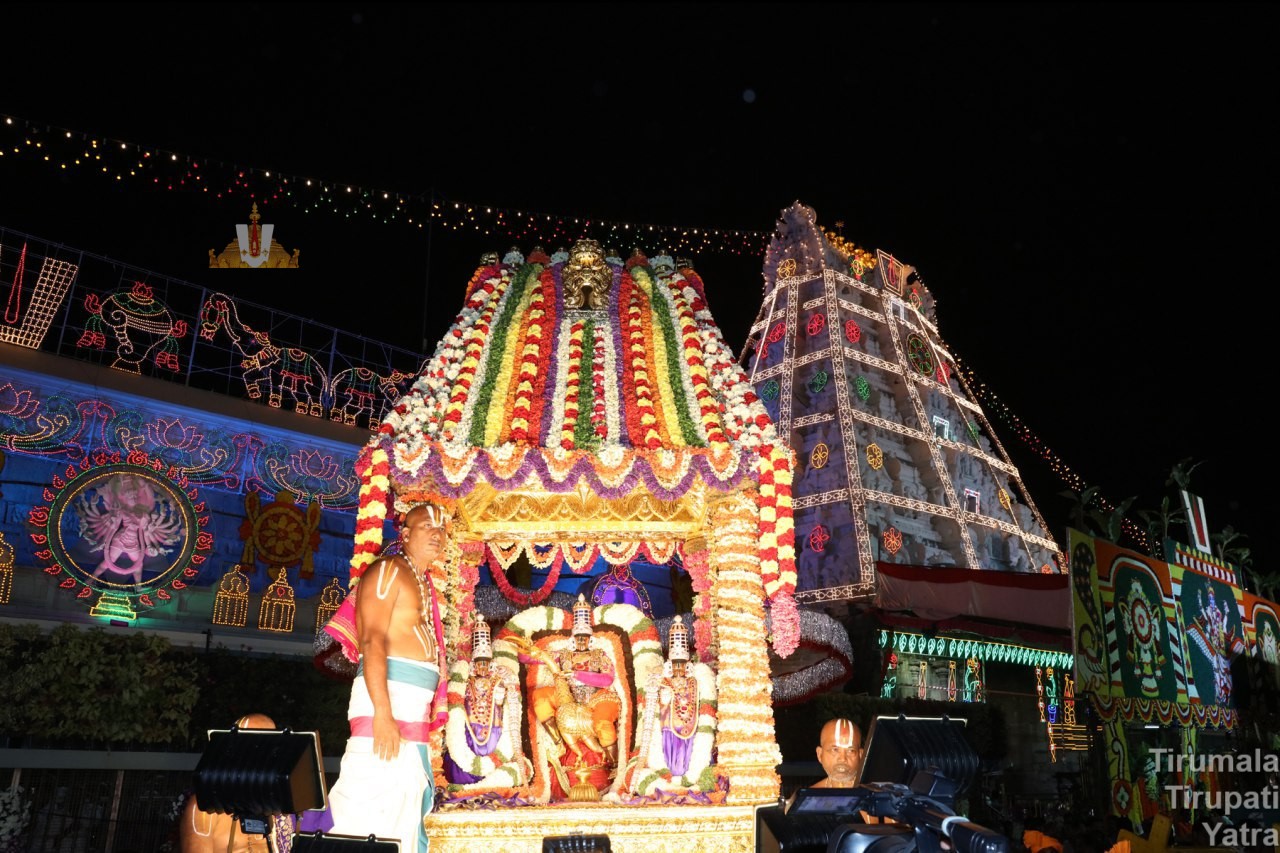 Sri Venkateswara Swami as the King of all the kings in three worlds
Tirumala temple celebrates Sankranti on a grand scale and with pomp and glory befitting the stature of Sri Venkateswara Swami as the King of all the kings in three worlds.
The utsavam begins by bringing Malayappa Swami, flanked by His two consorts on either side, in Sarva Bhupala Vahanam. We know that during annual Srivari Brahmotsavams, Lord Malayappa rides on this vehicle on the 4th day in the night.
This vehicle symbolizes the supremacy of Vishnu as the Lord of the universe including the king of the time i.e. Sun. Hence, Srivaru will be brought in Sarva Bhupala Vahanam along with Ammavarlu. Srivaru will be seated in the sannidhi where special rituals will be conducted by the priests.
Pongal - Inside Temple
As part of Sankranti celebrations, a recite (Parayanamdaru) will deliver a discourse on the significance of the festival before Srivaru. Later sweet Pongali will be offered as the special savour of the day to the deities.
This Pongal will be distributed to the people gathered there as Srivari Prasadam. A grand Mangala Harati would mark the end of the celebrations of Sankranti festival.