Sister of Lord Venkateswara
Gangamma the deity of Tatayyagunta is the sister of the God of Tirumala. 'Saare' i.e. traditional gifts are sent by Her Brother of Tirumala to the local festival called 'Ganga Jatara' every year.
These traditional gifts halt first at the temple of Govindaraja Swami in Tirupati and these are then taken to the temple of Gangamma.
About Temple
Sri Thathaya Gunta Gangamma is Grama devatha (Village Goddess) of Tirupati town.  Gangamma, believed to be sister of Lord Venkateswara. The annual fete is celebrated with great fervor by the local residents of Tirupati.
The temple is located in the center of Tirupati near Market area.
Thathayagunta, the tank bed on which the temple is now located, got its name from a Vaishnavite devotee called 'Tirumala Thathacharyulu', who is said to have consecrated the deity in the 16th century.
The age-old practice for devotees visiting Tirupati is to have dharshan of the Goddess before the trek up to Tirumala hills.
History
Once upon a time, Tirupati and surrounding places were ruled by "Palegondulu", and harassment on women was enormous. During this period, in a village "Avilala" the Godess Gangamma was born and grown as most beautiful women.
When the Palegondulu wanted Goddess Gangamma with bad intention, She with her grace and power tried to kill him. Because of fear, Palegondulu was hidden in a remote place.
To make him out from hidden place, Gangamma had planned for "Ganga Jathra" where the people of Tirupati have different customs (Vichitra Veshadarana) and curse Gangamma for a period of 7 days.
On the seventh day, "Palegondulu" came out from the shadow for the festival and was killed by Goddess Gangamma.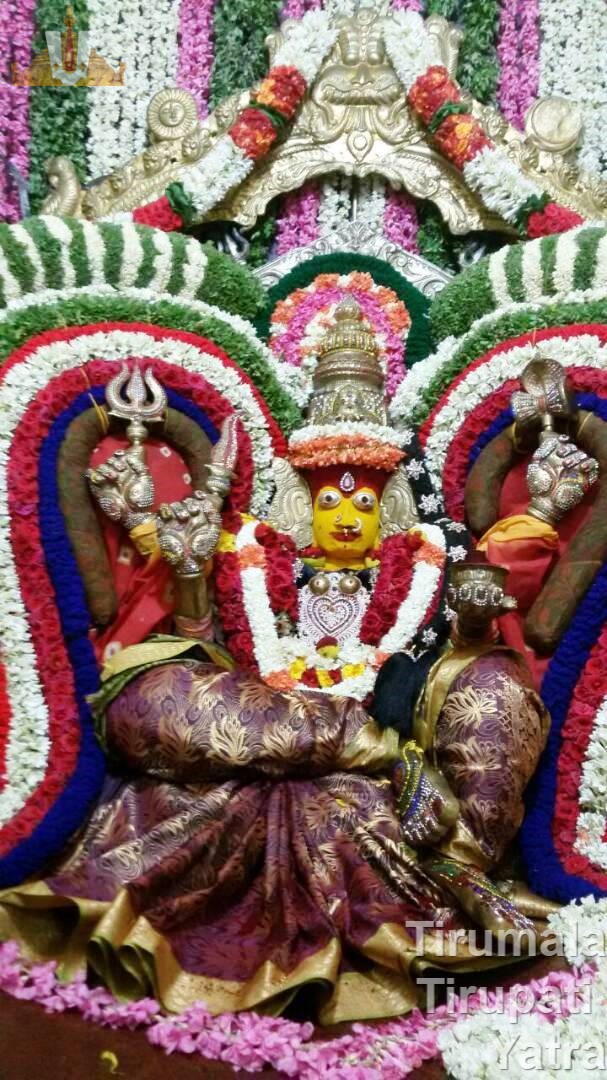 Special Poojas 
The Gangamma Jathara is a very famous local festival for the People of Tirupati. It is done every year in month of May.
Navarathri festival is being held during Dasara period, every day Goddess Gangamma dresses up depending on the occasion.
Laksha Kumkuma Archanais done on special occasions.