View of Ananda Nilayam from West Mada Street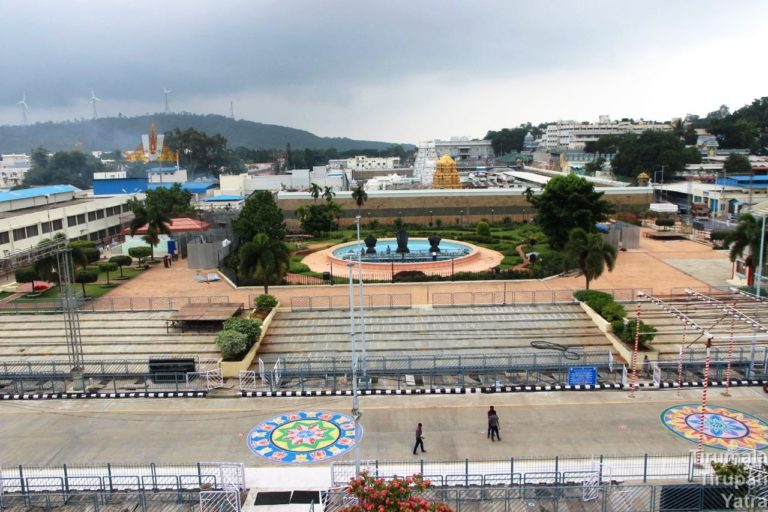 Venkatadri samam sthanam
Brahmande Nasti Kinchana
Venkatesa samo devo
Na bhuto na bhavishyati
"There is no place equivalent to Venkatadri in this entire universe. There is no god who can equal Lord Venkateswara. Nor shall there be any in future"
Lord Sri Venkateswara, the supreme lord of the universe has manifested himself on sri venkatadri known as the vaikuntam of this kali yuga. He gives a glimpse of his vision everyday to his devotees and redeems them.
Sheshachala shrine is renowned all over the worlds as a holy place.
Vedas sings in his praise thus, "YO SI SOSI" I.e. "Thou art what thou art" (Nuvvu kala, nuvve oka kala), he is none else than Lord srinivasa who is worshipped as a peerless lord in all Yugas.
About Tirumala
Tirumala is a census town in Chittoor district of the Indian state of Andhra Pradesh. The town is a part of Tirupati Urban Development Authority and located in Tirupati (rural) mandal of Tirupati revenue division. It is a hill town where Tirumala Venkateswara Temple is located, which is the abode of Lord Venkateswara.
Tirumala is located 3,200 feet (980 m) above sea level and covers an area of approximately 10.33 square miles (26.8 km2). Surrounding the hills are seven peaks of Seshachalam range. The temple of Sri Venkateswara is on the seventh peak (Venkatadri).
Tirupati is known for world famous Tirupati Laddu. It is the prasadam at Venkateswara Temple, Tirumala. Tirupati Laddu had got Geographical indication tag which entitles only Tirumala Tirupati Devasthanams to make or sell it.