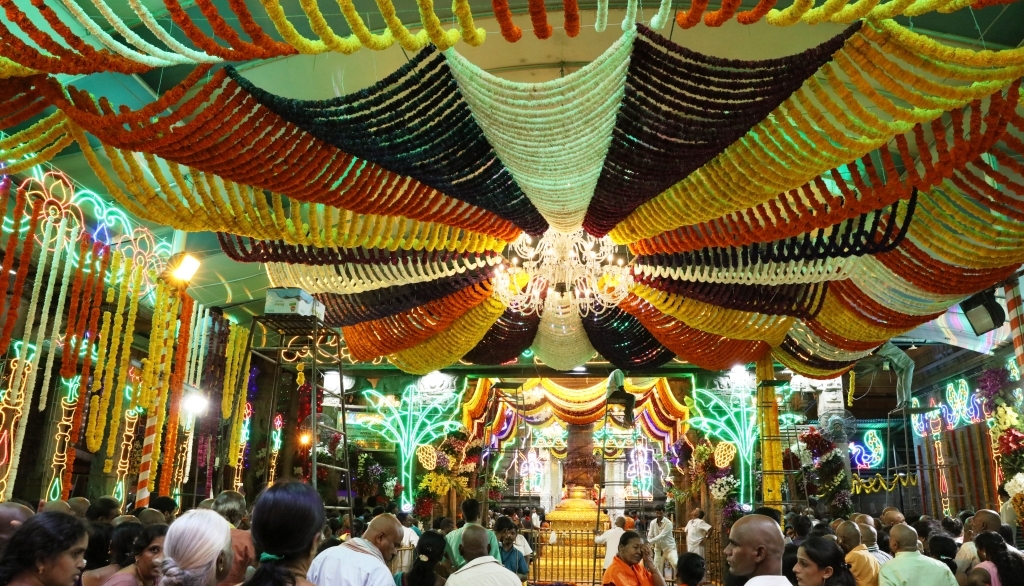 The Gateway's Tower
The Main gateway is known as 'Padikavali' or "Mukha Dwaram" or "Simha Dwaram". In Tamil they address this gateway as Periya Thiruvasali i.e., the big gate.
During day time one can see the dazzling seven kalasas (the gild ornament on the pinnacle of the tower). The tower stands 50 feet above the ground level.
There is a Prakara (High raised stone wall) uniting the gateway. It is known as "Maha Prakara". This 30 feet high stone wall has width of 4 feet.      
The devotees who come for Swamy Darshanam before entering into main gateway have to pass through vaikuntam 'Q' complex.
While entering through main gateway people loudly chant the holy name of Lord Venkateswara as
"Edukondalawada, Venkata Ramana - Govinda! Govinda!! Govinda!!!"
Sankha Nidhi – Padma Nidhi
While passing through the main gateway, you will find Two Panchaloha (Alloy of Five metals) idols of 2 feet high.
They are the two celestial security guards of Lord Venkateswara.
The guard Standing on the Southern side i.e., to your right has two large sized shells in his two hands. He is Sankhu Nidhi.
Similarly to your left i.e., on the northern direction there stands the second guard. He holds two lotus flowers in his two hands. He is named as Padma (Lotus) Nidhi. These two celestial security guards are there to protect lord Venkateswara's Treasury full of nine gems.
Near the feet of these celestial guards you will see six inches long idol of king standing with folded hands. He is the Vijayanagara king by name Achyuta Deva Raya.
As per Agamashastra (the Temple Architecture) the statues of such security guards are installed on the two sides.
This installation at the main entry gate of the temple proves the fact that the First enclosure (Avarana) indicates Mukkoti Pradakshana , the second enclosure as Vimana Pradakshnam and the third as the Sampangi Pradakshanam.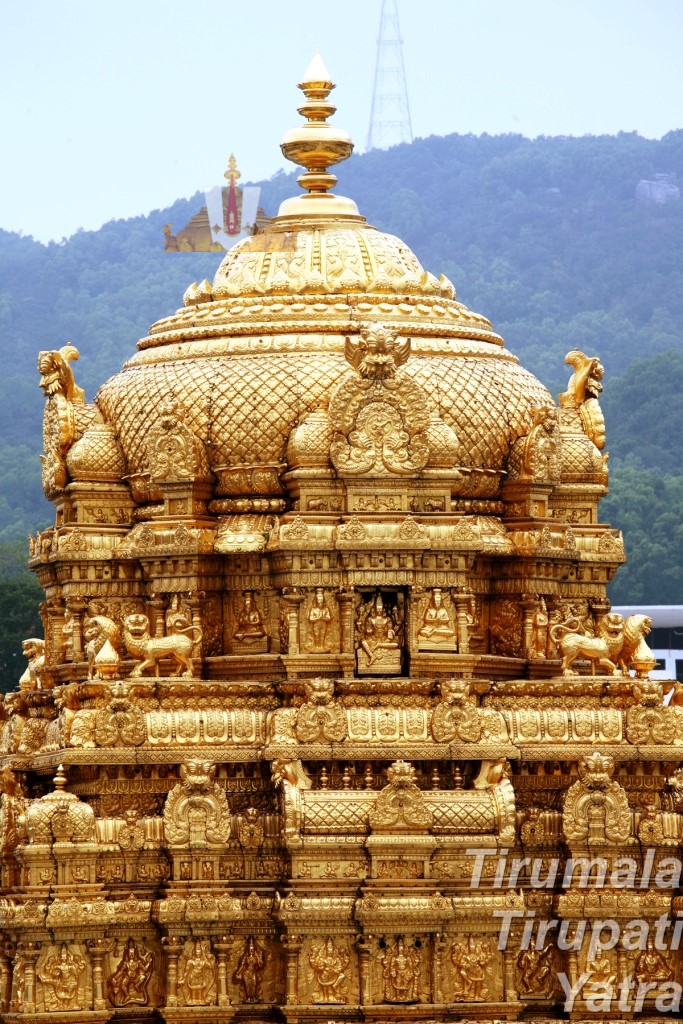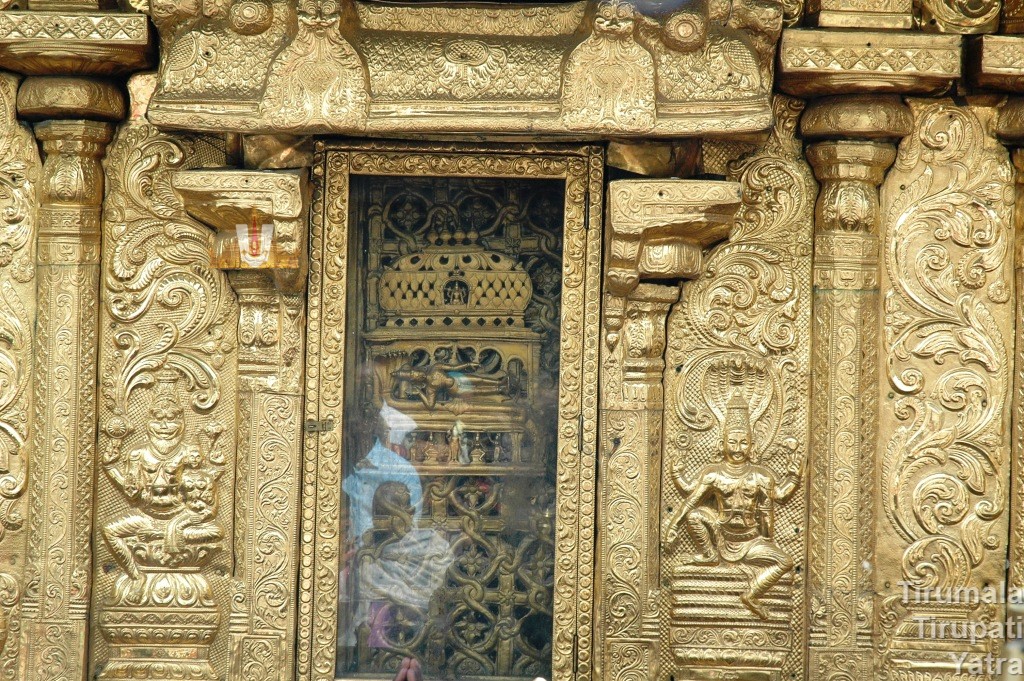 Darshan of Swami
There may be so many idols in temple. But the attraction and beauty of srinivasa idol is not there for the other idols. Even in Suprabhatam the whole body of Swami is described as "Sarvavayava Soundarya".
The elders say that we must see Swami from feet to head.
The head of swami is decorated with a golden crown studded with gems with a glow of innumerable suns. His face is a beautiful face with gentle Smile like rays of Moon light.
His forehead is decorated with Kasturi Tilakam and Kasturi.
His ear ornaments are the precious Makarakundalalu studded with gems, pearls and gold. His throat is bedecked with the Kastubhabharanam.
He is Vikramaseeli, bearer of sudarshan disc, srivatsalanchanudu.
He is garlanded with the gold and gems, padaka, mautikahara, kalhara.
His standing Posture indicates that his foot is the only resort for the people, who are immersed in the ocean of difficulties.
There are panchaberas inside the temple. Among them Dhruva murthy is important. It is Impossible to describe swami through words. He appears new in each and every kainkarya.
Especially swami on Friday is the center of attraction for all the three worlds.
Tallapaka poet described swami very beautifully
"Kanti sukravaramu gadiya ledinta - Anti Alamelu Manga andanunde Swamini"
"We saw him early in the morning - With His consort Alamelmanga"
Golden Lakshmi
After offering their offerings to Lord Venkateswara devotees come out.
When they look to their left on the prakara they will find a life size carved statue of Goddess Lakshmi.
She is showering not only wealth but also her choicest blessings on her devotees.
Sri Krishna Devaraya
Abutting the main gateway i.e., inside you can see life size copper idols.
The male statue is that the famous Vijayanagaram emperor Sri Krishna Deva Raya. He is standing in the midst of his two consorts Tirumala Devi and China Devi.
As per the available records he visited temple for seven times.
When he visited the temple on 02.01.1517 with his two consorts, it is believed that he himself carried out the installation of copper statues.
King Todarmal
To the North West corner of Tirumala Raya mandapam in the midst of 4 pillared portico you will find three life size copper statues with folded hands.
One statue bears the name of Lal Khem Ram next to him we will find his mother Mata Mohan Devi's statue. On the other side his wife Pita Bibis statue is there. The turbaned person is known as Todarmal.
In 17th century when Muslims and English people invaded Tirumala he bravely fought against them and successfully protected Tirumala Temple.
Weighing place (Tulabharam)
The balance is seen near the Tirumalaraya mandapam. In Sanskrit the balance is called "Tula". In olden days the kings used to perform "Tulapurushasanam".
The devotees pay money as they wishes to offer when their diseased are cured, and are blessed with children. The Money equivalent to their weight or to their children's weight is weighed and submitted to swami. If needed, T.T.D will provide the coins.
The main purpose of temple entry is to maintain equanimity of mind. "Equanimity of mind is the sun and substance of all Vedas".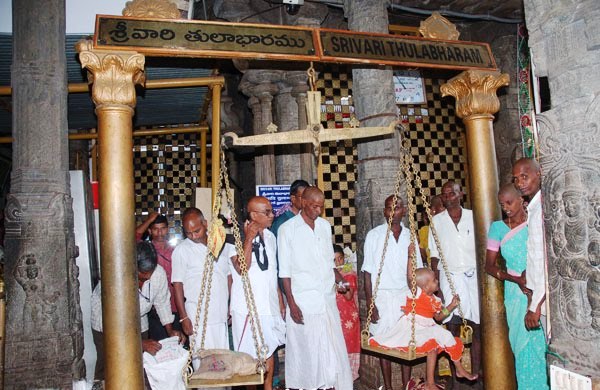 Balipeetam
Abuting Dhwajasthambam on the eastern side an altar known as Balipeetam, can be seen.
Let us now try to know about the importance of this Balipeetam, the altar. The food is first offered to the Lord and other deities in the premises of the temple.
After this, the food is placed on 8 different places also known as Balipeetam in eight different directions along with Vimana circumambulation path. Finally the Archakas (Priests) bring the food and place it on the Balipeetam right in front of Dhwajasthambam.
This is Vedic ritual. The food offered while chanting veda mantras, is meant for the different celestial beings who rule the four directions and four corners.
Vendi vakili/Silver Door
The door that appears with covering of silver is called 'Vendivakili'.
At the door there are images of Mahant Babaji and Sri Venkateswara swami playing the game of dice.
On the doors are the figures of Dasavatara the, ten incarnations of the Lord. The silver door indicates that the devotees must enter the temple with a perfect purity of heart.
Ranganatha Swami
Soon after crossing the silver door and entering the temple, Ranganatha swami appears lying on Adisesha. Above and below Ranganatha swami appears the idols of Sri Varada Rajaswami and Sri venkateswara swami Respectively.
Every day, early in the Morning the devotees circumambulate the temple( Angapradakshina) from this Sri Ranganatha Swami's Place. Even after Darshan they prostrate before Swami in this place.
Varada Raja Swami
Sri Varada Rajaswami temple is on the south-east corner of Vimana Pradakshina Marg. The idol of Varda Raja Swami of about 4 feet height was installed here.
Every day three times Nivedanas are held for swami. Every year on the birth day (Jayanti) of Varada Raja, Abhishekam, Archana are conducted on grand scale.
Mukkoti Pradakshanam
Adjacent to sanctum Santorum's prakara on southern side there is dwaram i.e., door. Through this door we have to enter in to Mukkoti pradakshana Margam i.e., path. We have to come out through the path that is next to Hundi
This path is situated in between sanctum Santorum's prakara and inner prakara of vimana pradakshana path. Only on Vykuntta Ekadasi day this door will be opened. To be more precise, this door will be kept opened from the mid night of Dasami to Dwadasi.
On the other days they keep this door closed. This circumambulation path is very close to the Chief Idol of Lord Venkateswara.
Sanku Sthapana Sthambham
Towards north east corner of Yoga Narasimha Swamy temple, at center you can see a pillar. At the behest of Lord Venkateswara, Thondaman Chakravarthy (emperor), it is said, had laid foundation at this particular spot for construction of Ananda Nilaya's tower and Prakaras (rampant).  This may not be true.
Perhaps it may be a pillar erected for the foundation laying ceremony of Yoga Narasimha Swamy Temple. On the four sides of this pillar you can find carved figure of Anjaneya.
It is firmly believed that whoever circumambulates this pillar with sincere devotion may succeed in having a house of their own.
Jaya Vijayulu
Jaya and Vijaya are in the form of stone idols in vaishnava temples, they appear in Tirumala in metal form. Vaikhanasulu speak of these idols as 'Chanda Prachanda'.
The specialty of these idols is that they symbolize and say that devotees' should enter the temple in perfect purity.
Garuda Mandiram
In front of the Golden door, there is a mandapam facing the idol of Sri Venkateswara a statue of garuda, with folded hands and fully stretched wings, is installed. This is a life size statue.
The Garuda Mandapam's mention is found in the 1512 A.D inscriptions. The tower constructed above the Mandapam has three golden Kalasams. One will see this tower while entering through the golden door. The three sides of Garuda temple are gold plated.
Sri Vari Prasadam
After prostrating before Sri Ranganatha swamy , Pilgrims have to come out through silver door towards north of silver door you will see priests distributing prasadam to devotees.
Distribution of Teerham - Sathari
Some time back, Teertha sathari were given to the devotees near kulasekharapadi.
This ritual was held at sayana mandapam for some time. Owing to heavy crowd of pilgrims, this facility was arranged on the up stair from which the pilgrims come out after the darshan of Vakulamata. 
The Retinue of Rama i.e., Angada, hanumanta, Sugriva idols can be found here. Elders say that these idols were presented to Ramanuja by a devotee.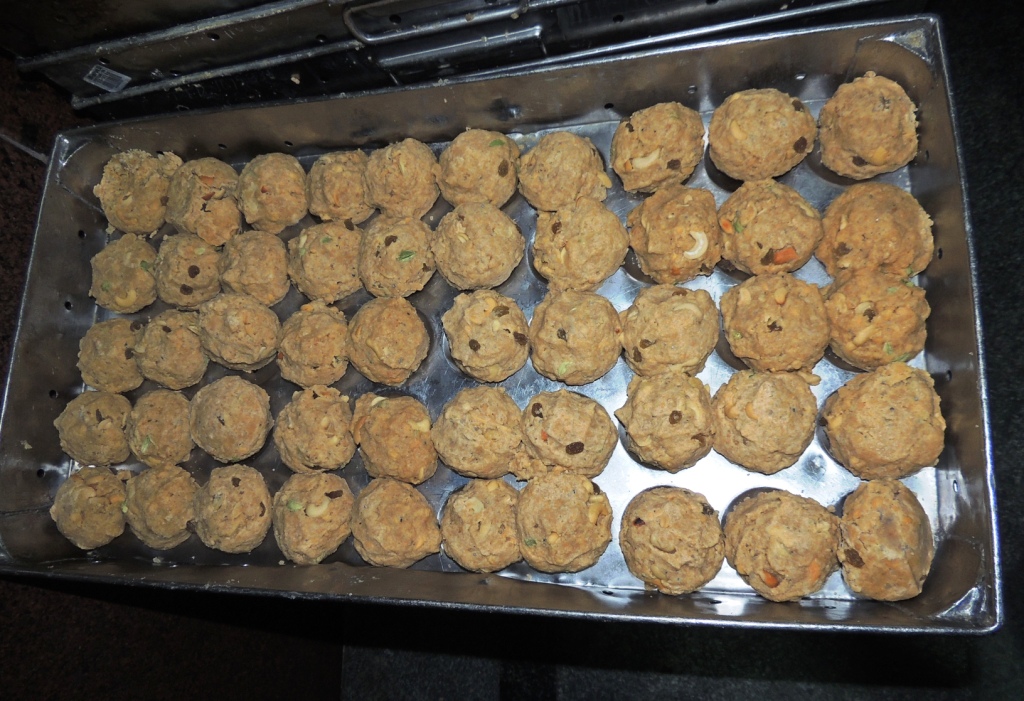 Hundi
The place where the devotees offer coins and gifts is called 'Hundi'.
This is in the shape of 'Dhamarukam'. Below the hundi is a huge vessel, a cauldron (gangalam) and it is tied tightly with the cloth above the Hundi.
It is quite natural for Andhrites to submit different kinds of gifts addressing swamy as "Vaddi Kasulavada! Aapada Mokkulavada!"
It is also customary to submit the gold crowns, ornaments.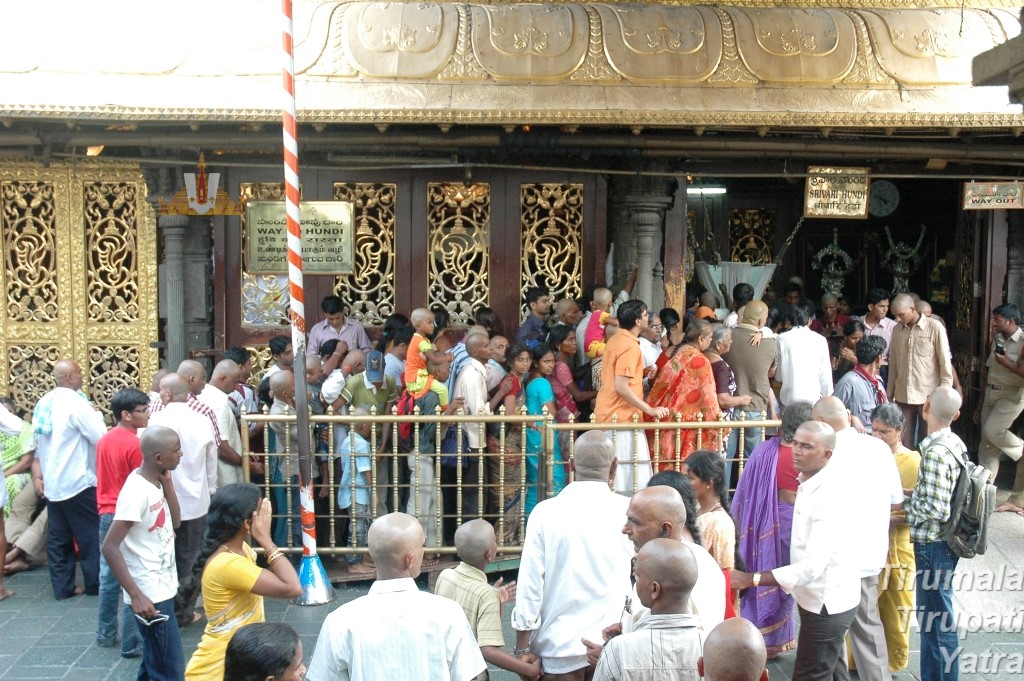 Bangaru Bavi (Golden Well)
There is a well by the side of Lord's chief Kitchen. This well is known as Bangaru Bavvi.
When devotees come out through Golden door after having the darshan, there is a path leading to the chief kitchen opposite to the golden door. Adjacent to the steps leading to the kitchen you will find a well.
This well has circular ring of stones from ground level. This stone construction has gold plating. Because of this gold platting people call it as Bangaru Bavvi. It has two other names: 'Sri Theertam' and ' sundara swamy bavvi'.
Sandalwood Room
To the north of currency counting center, in the North West corner there is a room with a grilled door. This is known as 'Chandanapu Ara' i.e., 'Sandal wood Room'.
Sandal wood paste that is required for the daily use of the temple is prepared in this room. Here you will see big white stones placed on a raised platform. On these white stone, sandalwood paste is prepared.
Vakula Maatha
After having darshanam of swami the pilgrims see the big bells on the way, and come across the compound observe the golden well, climb the steps and reach the kitchen house of vakulamalika. She has many names Such as pachana lakshmi, 'Vakuladevi', 'Vakulamalika'.
Yasoda who brought up Sri Krishna in Dwaparayuga regretted that she had not performed his marriage and she felt unhappy.
Sri Krishna consoled her and granted a boon that she would perform his marriage in kaliyuga when he descends as sreenivasa and she as Vakulamatta. Yasoda of that day is now Vakula Devi. As per Agama sastra she is called "Pakalakshmi".
Sri Yoga Narasimha Swamy Sannidhi
On Vimana Pradakshana path, in North-East direction there is west facing Yoga Narasimha swamy temple.
Though daily pooja is not offered to this Yoga Narasimha, Naivedyams are offered daily. Every Saturday Abhishekam is performed to yoga Narasimha. This will be followed by pooja and Naivedyam.