Pushpayagam (Yagam with Flowers) in Tiruchanur
Pushpayagam is performed to Sri Padmavati Devi in Tiruchanur. This is an annual festival that is performed the next day after the completion of annual Brahmotsavam on the asterism of Karthika masa, on the day after Panchami Theertham.
After the daily pujas, Goddess Sri Padmavati Devi is seated on a special golden platform and Snapana Tirumanjanam is performed. Later the Utsava Murti (procession statues) is decked up and a unique worship is done to Her with tons of varieties of flowers.
Flowers being used for Yagam
Traditional flowers including Mangolia, Souther wood, Chrysanthemums, Maruvam, Fragrant Herbs, Roses, Water Lilies etc. are really blessed to touch the deities angas from top to bottom in this floral shower rendered to Goddess amidst chanting of Vedic hymns.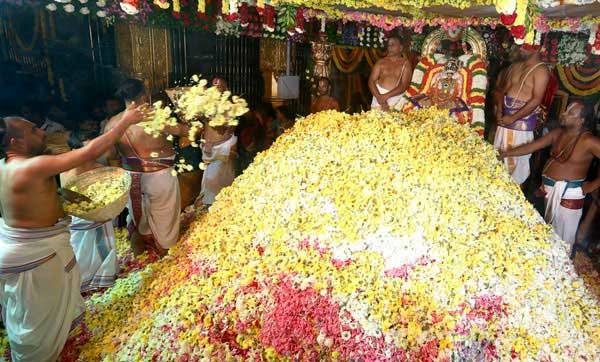 Later, a procession will be taken out in the evening. There is an age-old belief that this festival is usually performed to save the earth from natural calamities like quakes, cyclones, epidemics and appease the Goddess to save the lives of humanity, flora and fauna from all the catastrophes.
The Pushpayagam that is performed to Amma is a feast for our eyes. Let's have Her divine blessings!