Significance of Offering Umbrellas
Garuda Seva during annual Brahmotsvams at Tirumala is the most celebrated and significant seva, rendered to Lord Venkateswara in the form of (an archamurthi), who descended from 'Vaikunta' (Lord Mahavishnu) to protect the devotees from the sins and sufferings of Kaliyuga.
During the Garuda Seva, the most ceremonious thing is offering the new umbrellas to the Lord.
The umbrellas are of many kinds. Since time immemorial, man is accustomed for using umbrellas for some or other purpose. In ancient times, devotees used round umbrellas made of palm leaves, wild date leaves, and coconut leaves in rural areas.
In course of time, many kinds of umbrellas came into existence.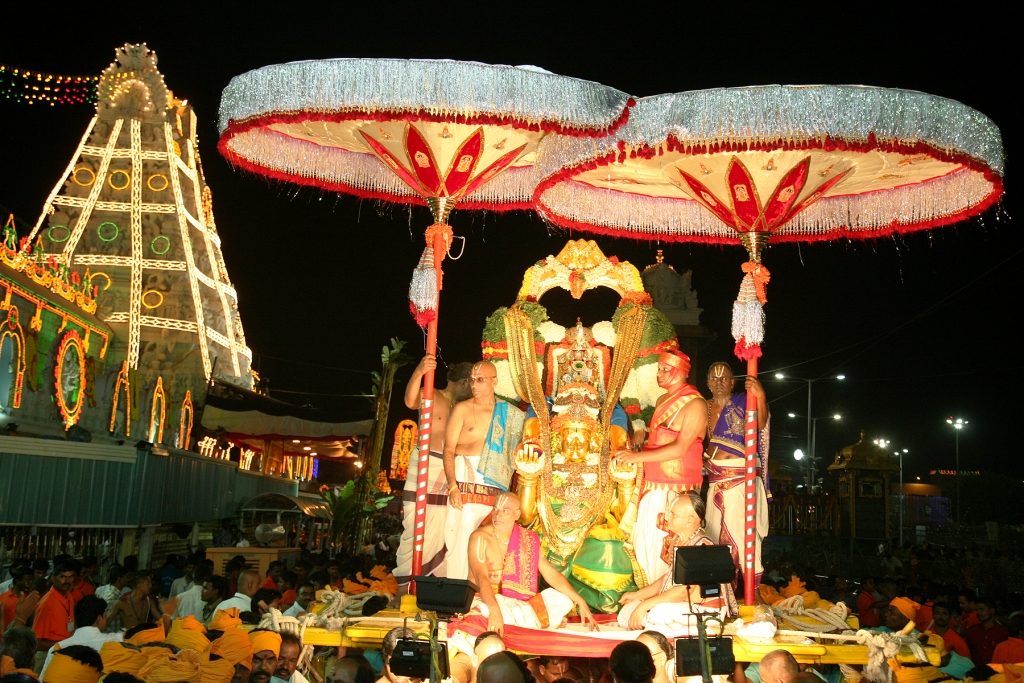 A novel thought came to the mind of man that the deities also should enjoy them.
The functions of the deities were being performed like that of the birthday, marriage, ceremonial processions etc. with the auspicious, beautiful, royal and superb presence of umbrellas.
Later to make it more attractive, they started preparing them in brass, silver and in gold and offered them to the deities. This became a part of temple ritual in due course of time.
Worship of Offering New Umbrellas
During the days of the annual Brahmotsavams, especially on the day of Garuda Seva, newly prepared and decorated umbrellas are being offered to Lord Venkateswara at Tirumala every year.
The worship of offering umbrellas will be done particularly on that day only. It had been in practice for many years. In days of yore, the facilities to organize the tradition were very limited.
They used to bring the umbrellas putting them in the bullock-carts in the light of tapers on foot. It is significant to note that this tradition is being continued by Chettiars residing at Chennai even today.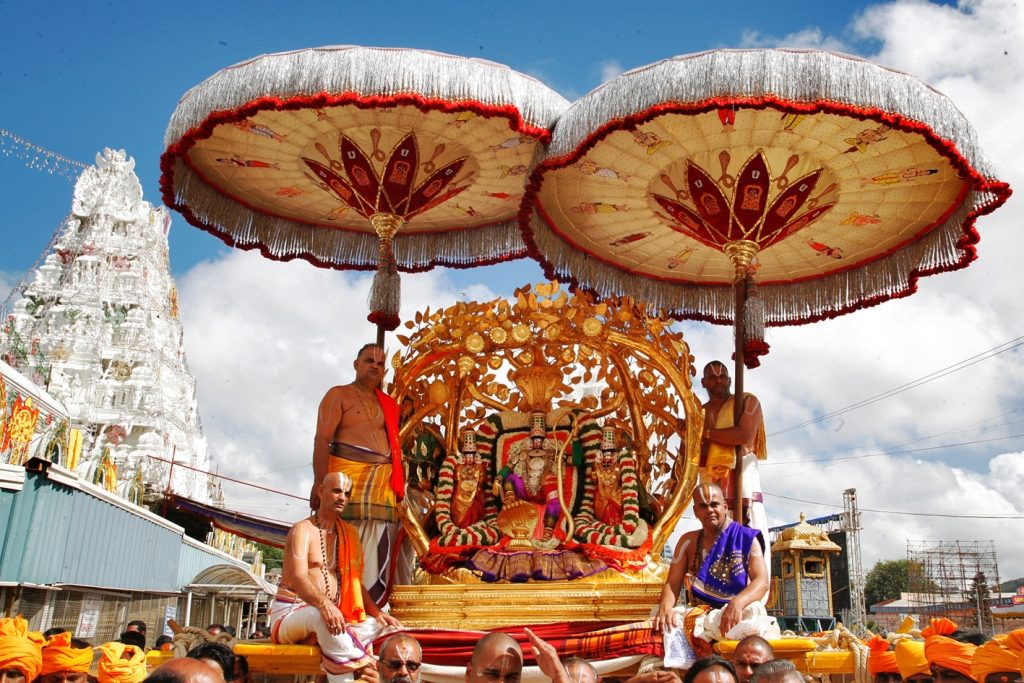 During the 'Sravanamasa' in Chennai the glory of ceremonial umbrellas is presented as an eye-feast to the spectators every year. For the Lord of Seven Hills, every day is a day of celebration. It is called 'Nitya Kalyanam Paccha Thoranam.'
Among all the 'utsavams' the most glorious and superb 'utsavam' is the annual Brahmotsavams held in 'Sravana/Bhadrapada masa'. According to Puranas, the annual Brahmotsavams were first initiated by Lord Brahma.
During the annual Brahmotsavams, the fifth day 'utsavam' is Garudotsavam. It is also called Garuda Seva. On this special day, the devotees come in large numbers to see Lord Venkateswara in his gorgeous sitting posture on Garuda during the procession and
rejoice.
Four small umbrellas and two big umbrellas offered to the Lord every year. The making of these ceremonial umbrellas starts a month before Garuda Seva.