Karthika Masam
Karthika Masam is very sacred for both the devotees of Lord Vishnu and Lord Siva.
The story goes that, Lord Siva killed Tripurasuras on Karthika Pournami and protected the world. On the other hand, Lord Vishnu goes to yogic sleep on Ashadha Suddha Ekadashi and wakes up on Karthika Suddha Ekadashi.
In this month, Tulasi plant is decorated and a Diya (deepam) is placed in front of it and is prayed.
Karthika Masam – Dakshinayana
The Indian lunar calendar is divided into two "Ayanas", each Ayana consisting of six months. One is called 'Dakshinayana' and the other is called 'Uttarayana'. Among them, Karthika Masam comes under Dakshinayana which is best suited for sadhana (i.e. to attain salvation).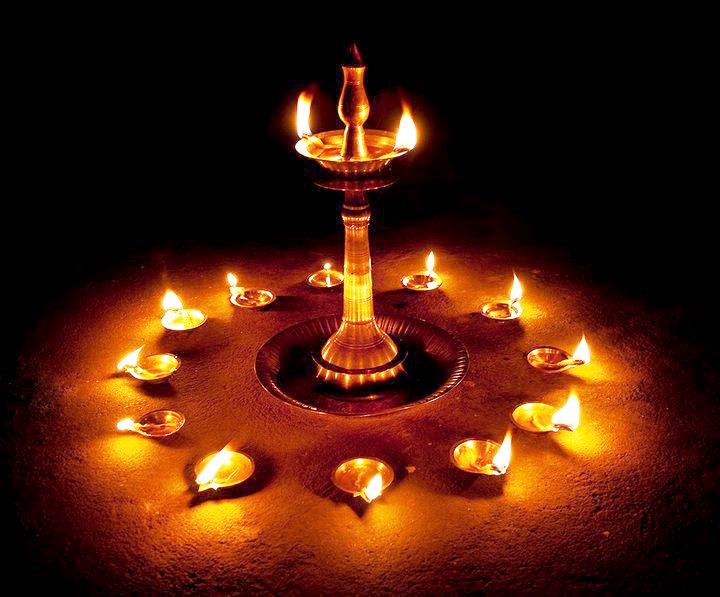 Importance of Karthika Masam
Of all the months in the year, the Karthika Masam plays a very dominant role in the spiritual life of a Women. As per the Holy Scriptures, Karthika has considered one of the most auspicious months of the year in which the devotees get an opportunity to get rid of all their evil deeds and adopt a pure way of life by praying to Lord Siva and Lord Vishnu. In the Padma Purana in Uttara Khanda, Lord Siva explains to Goddesses Parvati the greatness of Lord Vishnu as –
Sri Rama Rama Rameti Rame Raame
monorame
Sahasranama tat tulyam Rama nama
varaanane.
(I chant the holy name of Rama, Rama, Rama and thus constantly enjoy this beautiful sound. This holy name is equal to one thousand holy names of Lord Vishnu.)
Karthika Puja – 'Damodara Puja and 'Siva puja'.
Karthika Puja is called 'Damodara Puja and 'Siva puja'. The temple of Lord Sri Satyanarayana Swami located at Annavaram in East Godavari District, A.P. is the best example for the unification of Lord Brahma, Lord Siva and Lord Vishnu. The Lord is called 'Hari Hara Hiranyagarbha Trimurtyathmaka Swaroopulu'.
During the Karthika masam holy bath, meditation, charity, are some of the religious ceremonies being performed and the one who performs them gets relief from all sins. The devotees take bath in the holy rivers early in the morning and worship Lord Siva and Lord Vishnu.