Bhogi
The last day of Danus Sankranti is Bhogi. People celebrate it with a great zeal and happiness as it is the first festival in English new year. One day before people collect derelict objects like broken furniture, spoiled mats, used brooms, used winnowers, logs and dry branches of the trees etc.
On Bhogi day in early hours, they put bonfires in front of their houses with the collected objects. The series of the bonfires in the streets feast our eyes with emitting flames and smoke.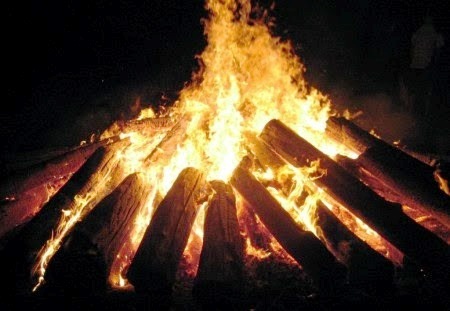 Bathing
The cold atmosphere at that place turns warm gradually. Some people boil water in pots on these bonfires for taking oil bath with this water. In rural areas, women combine their hands with others hands and go around the bonfires by singing and dancing. Everyone cleans their houses and takes oil bath on Bhogi day. Some people go to the temple as it is the last day of Dhanurmasa.
Dhanurmasam – Goda Devi
Dhanurmasa is an auspicious month for because Goda Devi, the incarnation of Bhudevi (the mother earth) worshipped Sri Ranganatha swami with her Tiruppavai pasurams during Dhanurmasam and married Ranganatha swami on this Bhogi day. In almost all vaishnavite temples Goda kalyanam with Ranganatha swami will be performed on Bhogi day.
The idol of Goda Devi will be brought to the Kalyana Mandapam in a Bhogi chariot which is specially made for this occasion.
Goda Devi drew rangoli to invite Lord Krishna
The special attraction of Bhogi is felt with the colourful rangoli drawn in front of the houses. It indicates the beginning of Dhanurmasa and goes upto Mukkanuma. It is said that Goda Devi drew rangoli to invite Lord Krishna to her house.
During Danurmasa unmarried girls get up before dawn and draw rangoli in front their houses. Then they worship Lord Krishna to bless them with the best bridegroom.
Various kinds of rangoli like flowers, birds, animals, musical instruments, dolls, flower vase, pots and sugar cane can be drawn during an entire festival month.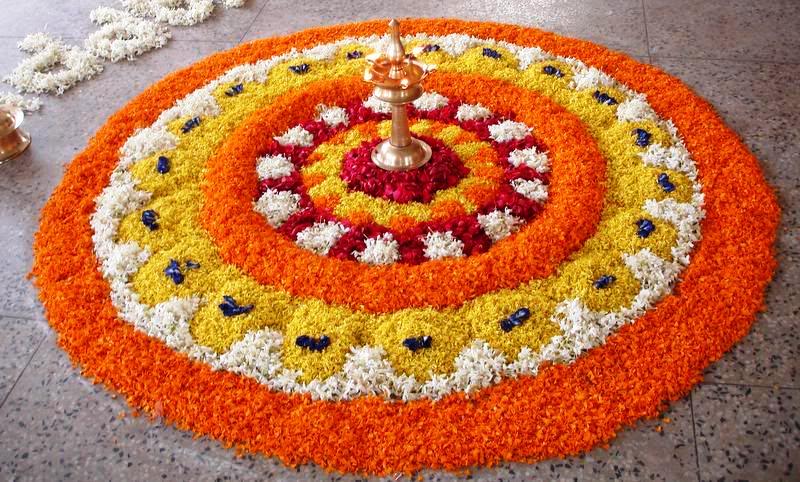 Some women arrange gobemmalu (gobemmalu are cow dung balls which are decorated with turmeric powder, red vermilion powder, flowers and with different types of grains) in between rangoli, one in the middle and the remaining around it.
The middle one is treated as Krishna or Gauri Devi and the remaining are treated as gopikas. These gobemmalu are then dried and used as fuel for cooking payasam on Rathasaptami or on Sankranti.
Magha suddha Saptami is Rathasaptami, the birthday of the Sun god. The other special attraction of Bhogi is Haridas.
Haridas especially dress in saffron clothes, applying namams on their forehead, putting a bowl like a pumpkin on their head, holding cymbals in one hand and thambura in another hand, fitting anklets to their legs. They are considered as a replica of sage Narada, a divine devotee of Lord Vishnu.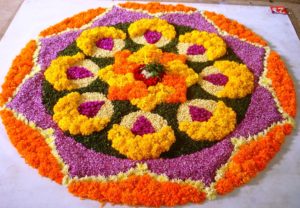 They walk along the streets by singing sundarakanda and Bhagavatam during Dhanurmasa. They create a devotional atmosphere there. It is believed that they should not be sent away without giving any alms. They accept rice, money, vegetables and other offerings.
In some places, an old tradition of Bhommalakoluvu is seen. It is showcasing of dolls for 3 days commencing with Bhogi. Women and children arrange interestingly the dolls in aesthetic and thematic fashion. They invite neighbours and friends and distribute Thambulam (Betel leaves and nuts with Bananas) as part of the tradition.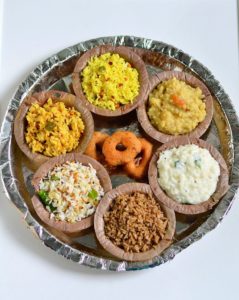 At houses
Tamarind rice,
hot Pongal,
bobattlu/poli/poornalu (prepared with atta/ liquid rice flour and paste of jaggery and Bengal gram).
In the evening the elders in the house pour a mixture of flower petals, jujube berries, pieces of sugar cane and coins (called Bhogi pallu) on the heads of the children to protect the children from an evil eye. They invite neighbours on this eve.