Slokams
Seetayam dakshine parsvey lakshmanasya cha parsvatah
Tan madhye raghavam vande dhanurbanardharam harim
 "Sri Rama Rama Raameti Rame Raame manorame
Saharanama thathulyam Sri Ramanama Varaanane"
About Temple
The ancient Sri Kondandarama Swamy temple is situated in Tirupati town. In token to visit of Seeta, Rama and Lakshmana to this place, their idols were consecrated and in later days the emperor Janamejaya renovated this temple as per the evidence available in "Sawal Jawab Patti".
According to the local peoples belief, Jambavan consecrated the idols in the temple and later that was renovated by Janamejaya in the local Ramachandra Pushkarini( a sacred tank).
According to the inscriptions, Sri Narasimha Mudiliar constructed this temple in the year saka 1402(1480 A.D). The sculpture of this temple was identified and designed during the Vijayanagara period.
Inside Temple
The devotees can have the darshan of the main deity very near from sayana mandiram.
In this temple Sri Kodandarama Swamy with Lakshmana Swamy to his left remains in a standing posture as Archa Murties.
As per saying archakas, Goddess sita devi was placed to the right of Sri Kodandarama Swamy as per the tradition of Vaikhanasaagama.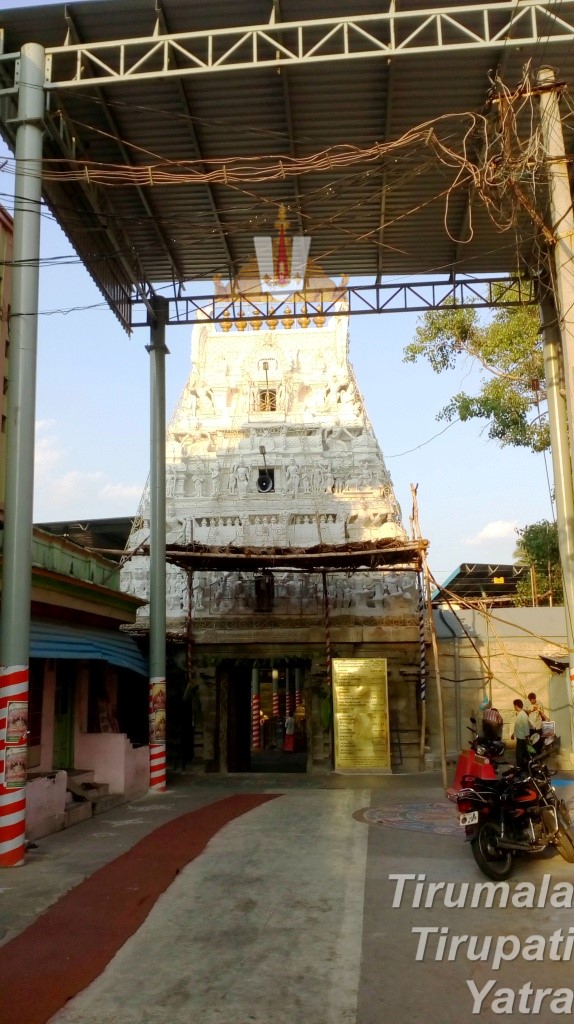 Rare Appearance
Generally, in all Sri Rama temples, the idol of Sita Devi will be in the left side, Lakshmana Swami will be to the right of Sri Rama. But, the speciality of this temple is that, the idol of Sita Devi is to the right of Rama and Lakshmana Swami to the left of Sri Ramachandra Murthi.
Because of this, it is auspicious to worship Lord Sri Rama to fulfill the desires of the devotees. Moreover, we cannot find Sri Anjaneya Swami alongwith mulavirat (main Deity).
The reason for the absence of Sri Anjaneya Swami was that, Sri Anjaneya was the minister of Sugreeva hence, Jambavantha did not install Sri Anjaneya swami. In addition to Mulavirat, we can see the utsavamurthies, bhakta Anjaneyaswami, Vennamudda Krishnaswami and Sri Chakrat Alwar in garbhagruha.
We can see Kalyana Mandap, potu (kitchen), Aswarthanarayana tree and Unjal Mandapa in the temple premises. To the opposite side of Sri Kodandarama Swami temple, we find the temple of Sri Anjaneya Swami.
Daily Seva Timings
| | |
| --- | --- |
| Suprabhatham    | 5.00  to 5.30 a.m |
| Suprhata Darshanam | 5.30 am to 6.00 am |
| Sarva Darshanam | 6.00 am to 8.00 am |
| Thomala Seva | 8.00 am to 8.45 am |
| SahasraNama Archana | 8.45 am to 9.15 am |
| Archana Anatara Darshanam | 9.15 am to 10.00 am |
| 1st Bell | 10.00 am to 10.30 am |
| Sarvadarshanam | 10.30 am to 12.00 pm |
| 2nd Bell | 12.00 pm to 1.00 pm |
| Sarvadarshanam | 1.00pm to 6.00 pm |
| Night Bell | 6.00 pm to 7.00 pm |
| Sarvadarshanam | 7.00 pm to 8.45 pm |
| Ekantha Seva | 8.45 pm to 9.00 pm |
Panchaberams
The Panchaberams were also installed in this temple as in tirumala temple.
These Panchaberams- Mulavarlu,Koutukamurties, Utsavamurties, Snapanamurties, Balimurties  (Dhruva murties) are being worshiped daily. Moreover Sri Bhakthaanjaneya swamy, Sri Chakrattalwar and Sri Tandava Krishna (sayana seva) can also be seen in this temple. Swamy is prayed with folded hands chanting this sloka.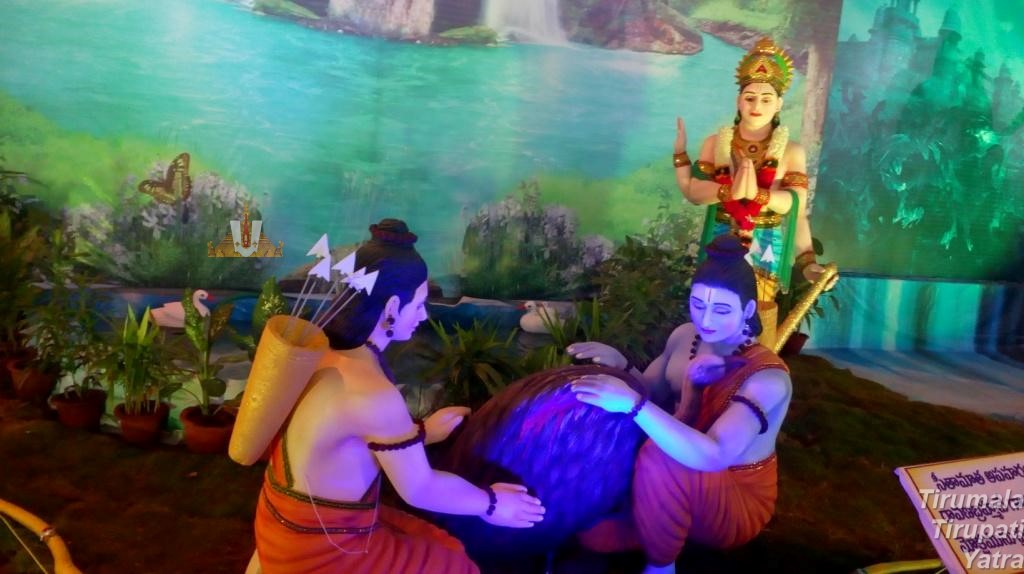 Sevas To Lord
In the temple, every day Suprabhata seva, Viswaroopa Darshana seva, Tomala Seva, Sahasranamarchana and Ekanta seva are performed. On every Saturday, Abhishekam is performed to the Lord.
During punarvasu Nakshatram every month, Kalyanam will be performed. Annual Brahmotsavams will be celebrated in the month of Phalguna month for nine days in a grand style.
Various Vahan sevas and Rathotsav will be performed to the Lord during brahmotsav grandly. Sri Ramanavami, Vaikunta Ekadasi and Dhanurmas utsavs are performed every year with pomp which is feast to the eyes.