Deepavali Asthanam on New Moon Day
Deepavali Asthanam is one among the celestial annual festivals performed to the Universal God, Lord Sri Venkateswara in Tirumala.
As usual, it is being conducted on the New Moon Day in the month of Aswayuja from the time of Suprabhatham to the time of the first offering of 'prasadam' to the Lord.
Sarvabhupala Vahanam
During the Brahmotsavams, Sri Malayappa Swami along with His Consorts Sri Devi and Bhu Devi stays in Ranganayakula Mandapam.
On the auspicious day of Deepavali Asthanam Lord Malayapappa Swami rests on the Sarvabhupala Vahanam situated before the Bangaru Vakili (Golden threshold).
Besides Lord Malayappa Swami who is opposite to Sri Garudalwar, Sri Viswaksena, the Lord's 'Sarva Sainyadhipathi' (Commander-in-Chief) will be seated on a separate 'peetham' facing the South.
Viswak Sena - Chief commander of Lord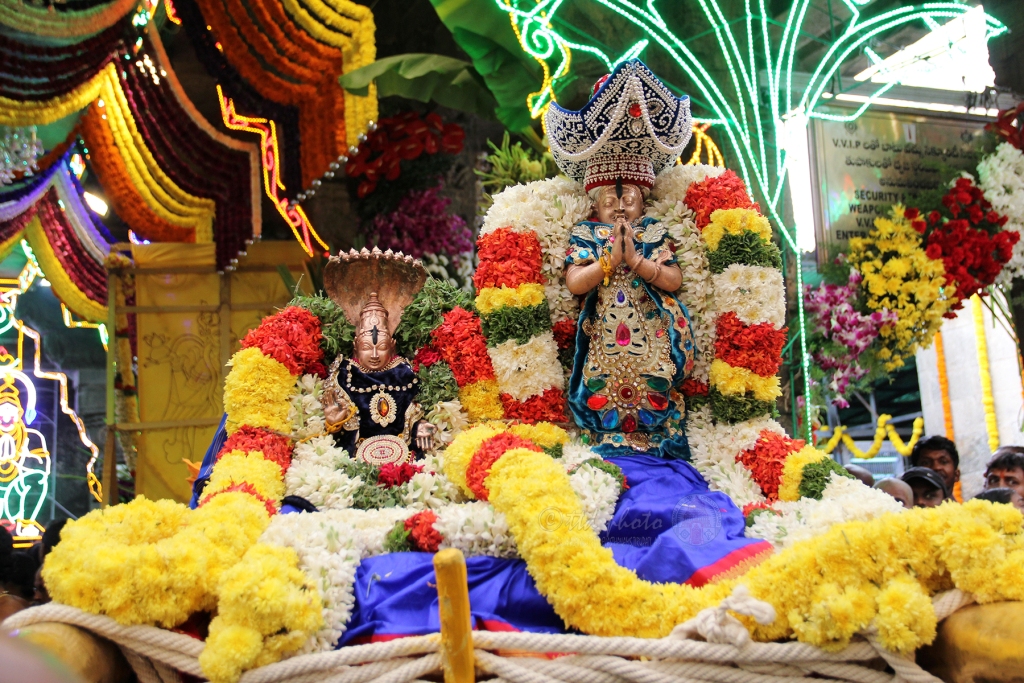 Second Archana
Later the second 'Nivedana' will be commenced. Second Archana will be performed to the Mula Murthi in the sanctum sanctorum and to Lord Malayappa Swami who is in front of the Bangaruvakili.
Later the carriers of 'prasadam' along with the celestial umbrellas and musical instruments bring prasadam from Srivari Potu doing Pradakshinam round the Bangaru Vimanam to offer to both the Mula Murthi and Lord Malayappa in Bangaru Vakili.
Peda Jeyyangar along with the officials of the T.T.D accompanying the celestial umbrellas and musical instruments brings sacred six silk clothes in a silver plate to the Ananda Nilayam doing 'pradakshinam' round the Dwajasthambham and Vimana Pradakshinam.
Six Clothes for decorating
Four of them will be decorated to Mula Murthi. The first one is offered to His Crown, the second one is to the Sword, the third one is offered as His Uttareeyam and the fourth one is offered as Adi Thomala by Archakas. Sri Jeyyangar presents the remaining two clothes to the Archakas.
The Archakas decorate one to Sri Malayappa Swami and the other to Sri Viswaksena in the Asthanam. 'Akshatas' will be sprinkled as offering. The 'aarathi' will be offered to Lord Malayapa Swami in a grand manner.
Afterwards, the 'aarathis' of Sri Mahanth, Sri Tallapaka and Matrusri Tarigonda will be performed. Later, 'prasadam' will be distributed. Pilgrims have no scope to participate in the 'Asthanam' which is celebrated in isolation.
The Asthanam will be performed in front of Bangaru Vakili. After the completion of the Asthanam, Sri Malayappa Swami along with His consorts Sri Devi and Bhu Devi reaches Kalyana Mandapam to participate in the 'Arjitha Sevas' like Kalyanotsavam.
*Data Source - Saptagiri Magazine