Ramakrishna Theertham
Ramakrishna Theertham is located at six miles to the north of Lord Venkateswara Temple.
Here a person named Krishna is set to have performed TAPAS (MEDITATION) and excavated a pool for cleaning with water with religious rituals.
Later one sage named Ramakrishna undergone a severe punishment for his sins, for centuries.
In the mean time an ant-hill was developed around him without his knowledge.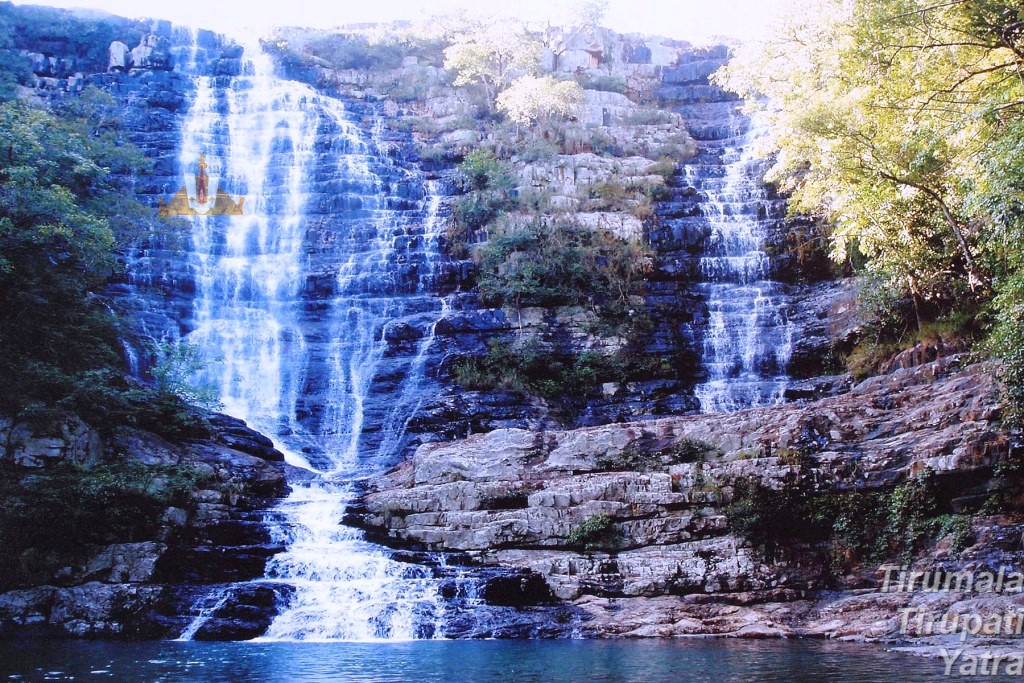 Testing RamaKrishna
Indra wanted to test him, and created torrents of rain with lightning, thunder and thunder bolts to fall on the ant-hill. But he was quite unconscious. Only the crest of the ant-hill broke and slided to the ground. Then Sri Maha Vishnu appeared before him with his Garuda Vahana and said like this - "On this day of Pournami (FULL MOON DAY) in combination of star PUSHYAMI in the solar month of MAKARA (JANUARY) I favoured with DARSHANA.
Anybody (who take bath) in this Theertham will be released from all moral violations of Laws. All these are well described in Skanda purana in Chapter 5.
On that particular day many people visit this theertham for holy bath. Prasadams will brought from temple to this theertham and offered to the image of Sri Krishna stationed here, and later prasadam will be distributed among pilgrims here.
Mukkoti
The Mukkoti of Swami Pushkarini (3.00,00,000 Theerdas flowing) occurs on the 12th day of the bright fortnight, i.e. on mukkoti dwadasi day in the Dhanurmasam (Between the middle of December and Middle of January).
On that day at the time of Sunrise Lord's CHAKRA will be taken in procession through the mada streets, is immersed in pushkarini. It is believed that all devatas will bath in it. This is considered a very holy and meritorious occasion and number of people bath in it at that time