Food Offerings to Srinivasa
The Lord of Ananda Nilaya loves to be well adorned. He is a gourmet. He is a love of his devotees too. It is for them that he eats tasty offerings of different kinds of rice, puddings and flour preparations.
After Mantrasanam, the Snanasanam (the celestial bath) and Yatrasanam (conducting Durbar) are performed as part of the Archana. Now it is the time for offering food to the Lord and this ritual is called Bhojyasanam; the offering is called 'Naivedyam'.
Naivedyam from Agama Shastras
The ritual of offering food or Naivedyam to Lord Venkateswara – a manifestation of Maha Vishnu- at the Tirumala temple has existed since eternity.
When Lord Vishnu decided to descend to Earth in Archa form or as an icon that can be worshipped, He commissioned Sage Vaikhanasa to prepare ancient religious texts called Agama Shastras.
These texts give an elaborate description of rituals to be performed at the Tirumala temple, the ingredients that go into the preparation of prasadams, the procedures and rules that a priest/ archaka has to follow, precautions to be taken and the vedic mantras to be recited at each step.
Thus the temple rituals followed at Tirumala essentially belong to the "Vaikhanasa Agama" texts.
Day Starts with
The Day starts with the offering of milk and butter and continues with sweet and hot preparations of food such as 
Pongali: Sweet Rice
Pulihora: Rice dresses with acid sauce of Tamarind
Chakkera Pongali:  A savoury mixture of rice, split pulse, spices and sugar
Dadhyodanam: Pudding of curd, rice, spices with salt
Ksheeraannam: Boiled milk rice with sugar
Kadambam: Sambar Rice
Mulahora: A preparation of rice
Pongali: Pongal with moongdal with pepper powder and ghee
Sira : Sweet made of wheat granules
Kesari: Sweet rice with spices
Laddus: Round Sweet balls made of bengal gram flour and sugar juice
Vada: Cakes of green gram flour fried in oil
Appams : Kind of sweet cake
Dosas
Jilebies
Tenetolalu (Sort of vermicelli)
Poleelu: Sweet made of wheat, pulse and treacle
Sukhiyalu and Guggillu
Cooks should not smell the food
After the food is prepared and before it is offered to God, even the cooks should not smell the food, and it may not be glimpsed by any
outsiders. 
Such is the sanctity that surrounds the preparation of the divine food. Hence, the cooks are required to cover their noses and mouths while preparing Naivedyam.
The kitchen is then closed for the night after the preparation of divine dinner. It opens again early in the morning when the cooks arrive after the stipulated morning ablutions.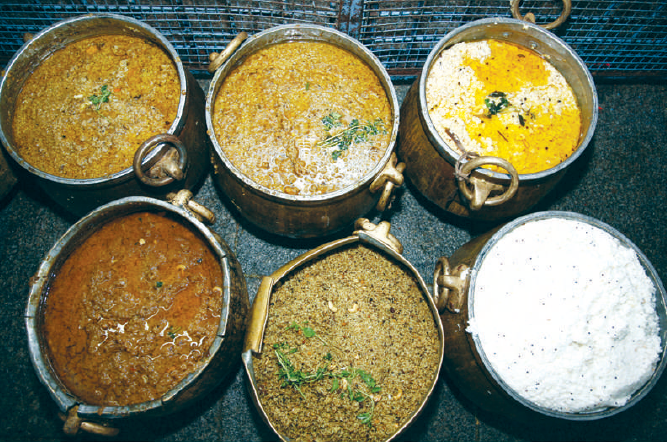 Besides to above
Besides these prasadams, there are special extra preparations of food offered to Lord, such as
Chalimidi Pindi known as Amritha Kalasham on Sunday,
big vadas on Monday, 
Ksheeraannam on Wednesday, 
Jilebis and Tene tolalu on Thursday,
Puranam Bhakshyalu and Sukhiyalu on Friday.
Tenali Ramakrishna humorously calls him "Tindi Mendayya" meaning one who is fond of a variety of delicious dishes.
Schedules of various food offerings
FIRST BELL: Breakfast or Balabhogam. Anna prasadams such as
Maatrannam
Mudgannam (ghee pongal).
Tintriniras annam (tamarind rice-pulihora)
Dadhyodhanam (Curd rice)
Gudannam (jaggery rice, Chakra Pongal)
Sakannam (kadambam)
ShakkarAnnam (ravakesari)
Besides these, four other kinds of snacks or Panyaramulu (savories) are also offered daily.
Ladukam (Laddu)
MashApupam (vada)
Gudapupam (appam)
Chakrapupam (dosa)
2nd Bell - Lunch or Raja Bhogam
SuddhAnnam (plain white rice )
PulihOra
GudAnnam
DadhyOdhanam
Seera or Shakkarabath
3rd Bell - Dinner or ShayanaBhogam
Marichy annam or pepper rice
Chakrapupam
Dosa
Ladukam
Mashapupam
Shakannam
Main Kitchen
This kitchen is a very ancient one. All prasadams offered to the Lord are prepared here with pure ghee. Nowhere in the world are 'Prasadams' of this magnitude prepared.
Vakula Devi
It is believed that Vakula devi, the Foster mother of Lord Srinivasa, supervises the preparation of food relished by her son. She continues to supervise the preparation of all the prasadams for the Lord.
So a peep hole is made in the wall for her to oversee the preparations in the kitchen.
Padi Potu
The temple kitchen is located in the route of Sampangi Pradakshinam. This kitchen is referred to as 'Padi potu'.
Sweets and savories like laddoo, vada, appam, dosa, poli, sukhiya, jilebi, and so on, which are offered to the Lord are prepared here in large quantities.
Ekanta Seva
Midnight offering for Tiruveesam is jaggery rice or gudAnnam. For EkantaSeva, just before God is put to bed, warm milk, dry fruits accompanied by seasonal fruits are offered as the last Naivedyam of the day.
*Data Source: Saptagiri Magazine