SriVari Hundi - Koppera
The Hundi was established in 25-07-1821 for the first time in Tirumala temple. Later on 25-07-1825 it was named as 'Siri Koluvu' and the Caldron was draped around with white cloth and was put on 9' height.
Afterwards our family got the hereditary responsibilities and felt as a boon with the blessings of Lord Srinivasa of Tirumala.
The services to the Lord were recognized and some extent of land was donated to us. It was taken as our responsibility and kept a Guard for protection, look after the Income and expenditure simultaneously.
In continuation of this tradition, myself offered a Caldron in the year 2016 weighing 75 kgs., and again on 04-07-2017 another Caldron. We are extremely happy to do the noble service with the divine blessings of Lord Srinivasa.
Location
The Hundi was located just opposite and southern side of 'ANNAMAYYAARA' in a room with hundi in its centre, which is an integral part of the Tirumamani mandap of Mukkoti Pradakshina prakara.
This is about 3' by 2' brass Caldron (big Vessel) with a wide mouth and covered from bottom with a white cloth tapering to a height of 9' and tied to the ceiling of the hall with a provision for putting offerings through openings on its four sides.
Valuable gold and silver ornaments, coins, notes in all denominations, other materials etc. are being offered inside as vowed by devotees, thrust into it through the openings of the cloth cover.
Measurements
At present the Caldron is prepared with the measurements and the procedure as given below:
Brass metal being used to prepare bottom, ear, rings and Copper metal for Circumference of the big Vessel. 
Caldron measurements will be 25" or 27" and bottom circumference and height 25" or 27".
'9 ¼' metres white cloth for each Caldron.
6 metres yellow cloth for 40 Caldrons.
60 metres red cloth to prepare Urdhvapundram (Tirunamam) for 40 Caldrons.
The big Vessel thus appears to all like redemption receptacle receiving into its broad stomach.
Offerings
The devotees come in large number for offering to the deity in a systematic way, adopting 'Q' line from early morning to late in the night, thus the Caldron  overflows with collections.
The filled up Caldrons are replaced number of times by empty ones.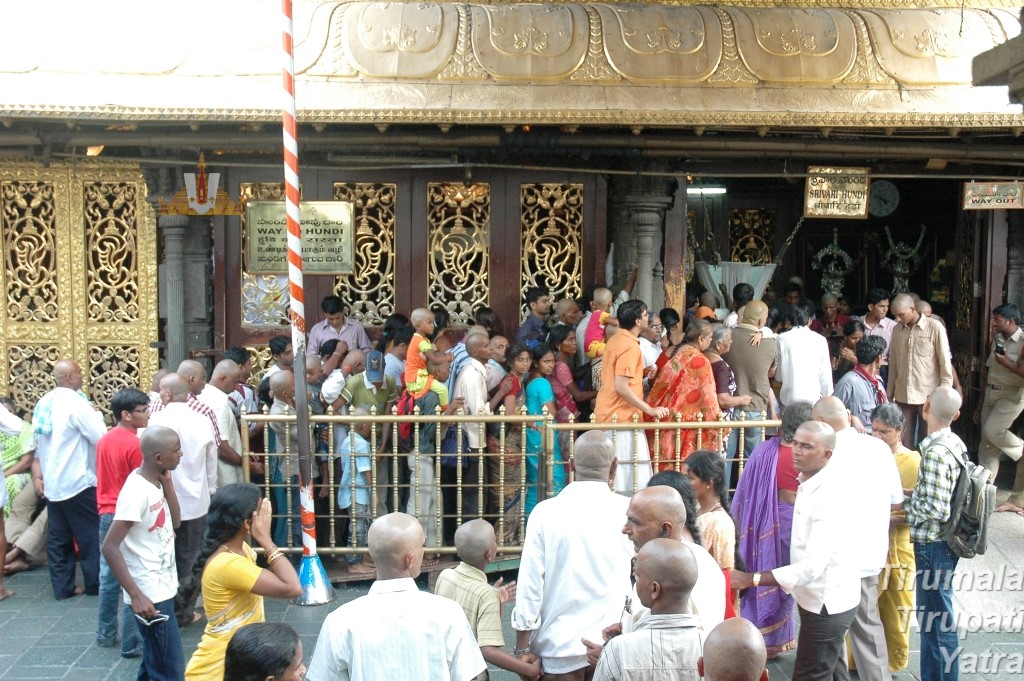 Curious Offerings to Lord from Devotees
Irrespective of their caste, creed, and region, devotees approach the Lord with curious offerings like
'Tala Neelalu' hair on the head,
'Niluvu Dopidi' (submission of whatever ornaments on the body at the time of taking the vow)
'Tulabharam' (offering of items equal to one's weight),
'Anga Pradakshina', (circumnutating around the temple in prostrate position)
'Akhanda Deeparadhana', (uninterrupted lighting of lamps) and many such.
Lord gracefully accepts all of them! Not only the commoners, but also the affluent and the famous people have submitted offerings to the Lord.
Kings, business tycoons, movie persons, actors, foreigners, all of them submit themselves and make offerings.