Fulfilling Wishes
If any wish needs to be fulfilled, Srivaru expects some money it may be a rupee, crores or lakhs worth of jewellery. When it is offered with devotion Lord grants the devotees accordingly. It is his sport with his dear devotees.
Adorning jewels
After Abhishekam, Srivari Mulavirat is adorned with a Tilak on the forehead with PACCHA KARPOORAM AND KASTURI. And then 24 yards cotton Dhothi and on the above, a Silk Melchat Vastram of 24 yards is adorned.
This is done to take care that while adorning jewels, the icon is protected from wear and tear. After Vastram, a silk pillow draped with a silk saree is tied on the chest of Mulavirat.
On the pillow, a Plain Gold Waist Belt - SAADA VADDANAM (Plain waist belt), and NAGABHARANA VADDANAM (waist belt having snake image) is adorned. All these jewels are to be adorned in a prescribed sequence.
Surya Katari
Now a jewel by name 'PAAGADAALU' is adorned near the knees, followed by 'GAJJELU' (Anklets). The sword 'SURYA KATARI' is adorned in between the feet. Above this sword 'DASAVATHARA VADDANAM' (Waist belt) – 'GHANTALA MOLATRADU' (Waist belt having small bells) is adorned.
Jewels Adorned in Sequence
Chinna Kantabharanam
Pedda Kantabharanam
Gold Puligoruharam
6 Step Chandraharam (presented by TTD Employees)
Gold Yagnopaveetam
Thread Yagnopaveetam
A garland of 108 Tulasi leaves in gold called Tulasi Patraharam
A garland of 108 Lakshmi Images in Gold called Chaturbhuja Lakshmi Haram
A garland of 108 coins with the 108 Holy Names of Srivaru written on each Coin called 'Ashtothara Kasula Haram'
A garland of 1008 coins with 1008 holy names of Srivaru written on each Coin called Sahasranama Haram.
Gold covering for lower right hand  - Vaikunta Hasta
Gold covering for lower left hand – Kati Hasta
Kankanams / Bracelets for both Lower Hands and Upper Hands
Nagabharanam, adorned in both the Arms
Bhuja Keerthulu on both Shoulders
Karnapatrams on both the Ears
Garland of divine Salagramas in Gold covering hanging on both the sides
Garlands of Lotus flowers hanging on both the sides in Gold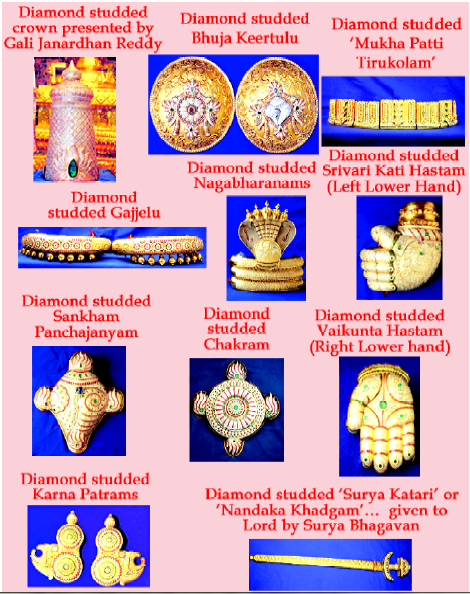 Six Crowns
There are six crowns at present in the treasury of Lord Srinivasa. Among this
2 are diamond crowns – one crown was made by TTD through Tribhuvandas Jhaveri Jewellers, Mumbai, in 1983/84 commemorating TTD Golden Jubilee.
Another diamond crown was presented by Gali Janardhan Reddy.
3 Semi diamond studded crowns were presented by Kanchi seer Jayendra Saraswati Swami and the most auspicious Akasaraja Kireetam.
The divine Makara Kanti jewel in three rows was presented by Mysore Maharaja.
Also the Sahasranama Haram was donated by Mysore Charities in 1965. These are some of the Adornments of Lord Venkateswara. Have and the Ecstatic Experience and Divine feel.
*Data Source - Saptagiri Magazine