Panchami Theertham
Several sevas would be performed to the mother in the temple and sanctorum. On the last day of Brahmotsavam, on the Panchami day, the mother would be taken for holy bath called 'Panchami Theertham'.
Devotees will be blessed if they take bath on that day in the pond. The mother will be adorned with golden saree on that day and she will be in the beautiful attire seated herself as "Sri Mahalaxmi".
Loving Gift to Alamelumanga from Ananda Nilayam
Even to this day, on 'Panchami Teerth" day(on the day of the ceremony of Chakra Snan [holy dip of the disc].)
Padmavathi gets the following gifts from Ananda Nilayam:
Two silk sarees,
Two silk blouses,
Fresh turmeric plants,
Flower garlands,
Tulsi garlands,
Two gold ornaments.
In addition, she gets the gift of different snacks, each of a padi (51 numbers) — big laddus, vadai, appams, dosai etc.
These are brought on a howda perched on an elephant in a regal procession and are traditionally offered to Padmavathi as a parental gift.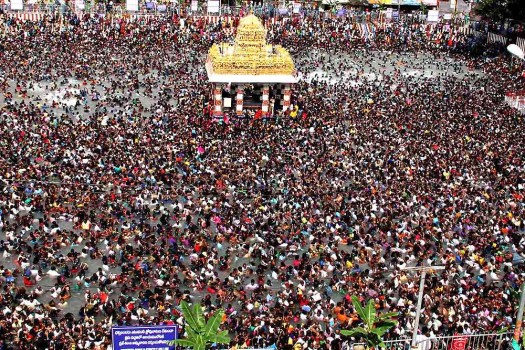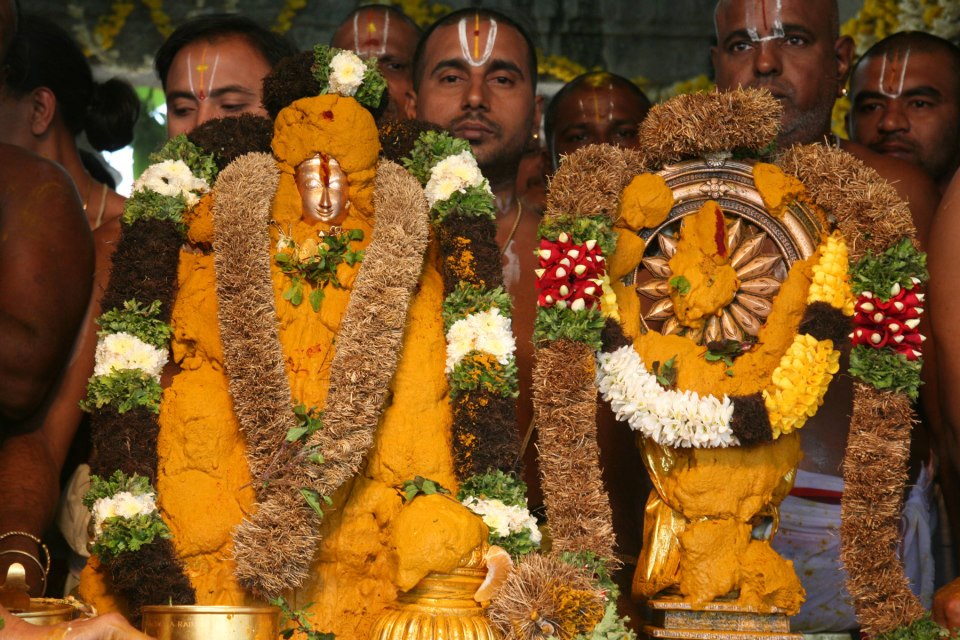 Chakra Snanam
Tiruchanur is the sacred place where Lord Srinivasa did penance for 12 years to get back Padmavati Devi, who always remains in his heart. Sri Mahalakshmi left Vaikuntam angrily with the misdeed of sage Brighu.
Sri Maha Vishnu himself dug the tank. He brought golden lotus flowers and planted them in the tank. Special poojas are performed on this festival day.
Srivaru sends Tulasi, turmeric, vermillion, Silk Sarees, Panyarams in a procession on elephants to his consort over from Tirumala to Tiruchanur and handover them with temple tradition. (as mentioned above)
Sri Padmavati Devi along with Sudarsana Swami reaches PadmaSarovar for Avabrithasnanam. After the completion of Chakrasnanam, Ammavaru reaches the temple in a procession, and the devotees in large number take bath in the Padmasarovar.
A dip in the Padmasarovar will relieve all our evil deeds and the devotees will be blessed by the Ammavaru.